Info
Map - Starting Out
Starting Out with a New Character
Depending on which class you have chosen to start a new character with, you will begin in a different location where you will benefit from the help and wisdom of the local inhabitants. Let the residents of Maple Island welcome you as a new Adventurer, train to be a Knight of Cygnus on Erev or recover your lost memories and skill as an Aran on Rien! There are many more maps awaiting for you as you grow stronger!

Adventurers - Maple Island

As an Adventurer, your journey begins on Maple Island, where the friendly citizens guide you through your first steps of your own adventure. Experience an unexpected adventure with MapleStory!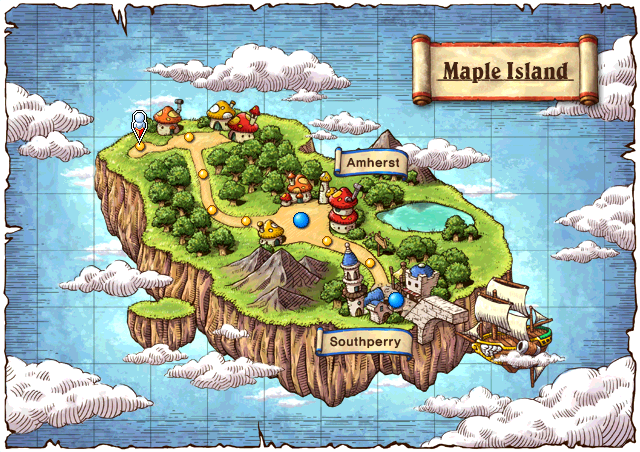 Location: Somewhere to the North-East of Victoria Island.
Characteristic : Small peaceful island with a friendly villagers and a simple town.
The first place you will see on Maple Island is the Mushroom Village, which is the first town of the game. Beginners will travel through Southperry and Amherst to learn various skills and techniques, and also complete quests with the help of various NPCs. Once several quests are completed and a certain level is achieved, you are allowed to board the ship, The Victoria that is anchored at Southperry, and proceed to Victoria Island where you can then do your 1st Job Advancement.

Knights of Cygnus - Erev

Knights of Cygnus start out on Erev as Nobless and are taught what are expected of them, before they proceed with their training with the help of the local inhabitants and meet the beautiful Queen Cygnus.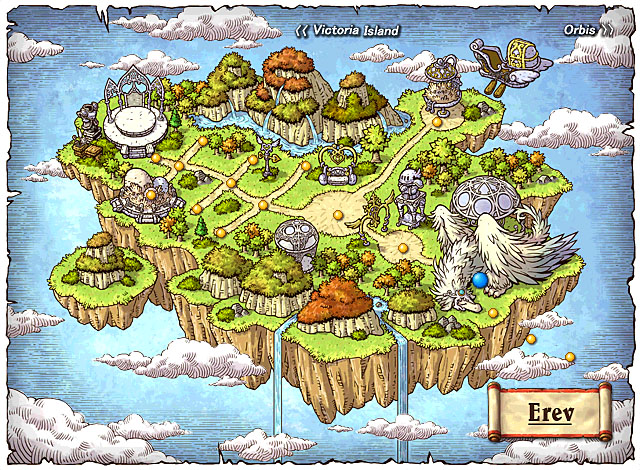 Location: Floating between Victoria Island and Ossyria Continent, somewhere above Aqua Road.
Characteristic : Home of Queen Cygnus, headquarter of the Knights of Cygnus, this island is peaceful under the Divine Bird's protection.
The free-floating island from which Queen Cygnus watches the Maple World, this is where all who are interested in joining the Knights of Cygnus should come to. The island is a tranquil place with elegant structures existing harmoniously with the lush natural surroundings. Nobless will go through a series of quests and training given on orders of the Queen's strategist, Nineheart. When you are ready, you can then choose which Knight Order to enter and prepare to leave for Victoria Island to do your part for the Queen and the Maple World.

Aran - Rien

Aran the Hero was discovered the penguins here on Rien, frozen in ice from the Black Wizard's curse. He woke up without memories of his past and of the world. This island is where training started for Aran, with the help of Lirin and the penguins.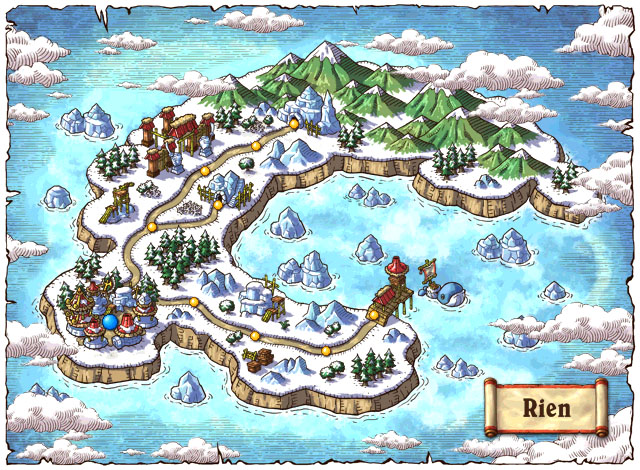 Location: Next to Victoria Island, 1 minute ride west of Lith Harbor.
Characteristic : Aran was found frozen in ice on this strangely icy island inhabited by penguins and Lirin.
According to Puro the Penguin, Rien is actually far from the northern regions, yet the temperature there is unusually low, which keeps the town frozen at all times. You can say that Rien consists of ice and little else. I hear that this anomaly in weather is definitely not natural, but manmade.
Newly awakened Legends will undergo your training to familiar yourself with your body and slowly recover your memories and abilities. Lirin and the penguins living on Rien will be around to assist you, and once you have learned all you can for now, you can go to Victoria island and go on a journey to widen your knowledge and find out more about yourself, your skills and your memories.