Guide
How to sign up for a MapleSEA game account

Step 1: Create Asiasoft Passport account
Asiasoft Passport is an unified gamer account that lets you access all our games and services with a single login. Signing up for your Asiasoft Passport is free of charge and allows you to create a MapleSEA game account.
2.
At the registration page

* Input your preferred Login ID, Password and Email address twice.
* Enter the CAPTCHA code. (You may click on the refresh arrow until you get an easy-to-read code)
* Read and agree to accept the Terms and Conditions.
* Submit your information to create the Asiasoft Passport.



Note:
- Do remember the Login ID as you will be using it to access your Asiasoft Passport account from now on.
- Ensure that the email address provided is valid as verification will be required at the end of registration.
- The same email address cannot be used to register for more than 1 Asiasoft Passport.
3.
Check your mailbox

Upon successful registration, an email will be sent to the email address you have used to register for your Asiasoft Passport.

Click on the "Return to Login Page" to continue.



Step 2: Verify the newly created Asiasoft Passport
Check your mailbox for the verification email. Click on the link to complete the verification procedure.



Note:
- The Asiasoft Passport account will not be activated until the email address is verified.
- Please read the email and follow the instructions given.
- Please verify your email within 3 days or the account will be suspended.
Once your email is verified, your Asiasoft Passport account Membership Type will be changed to "Regular"

Step 3: Create a MapleStorySEA game account
Login to your Asiasoft Passport account via https://passport.asiasoftsea.com/login.aspx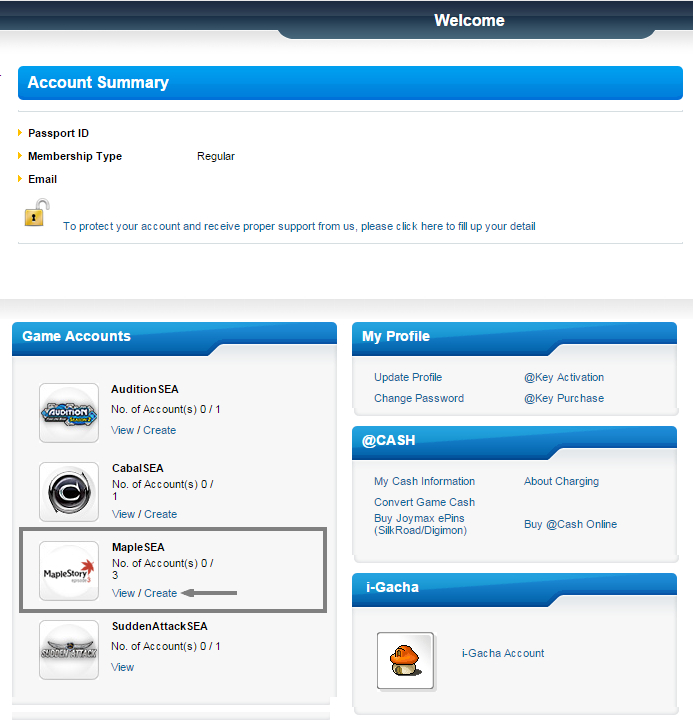 * Click on create to register for a new Maplestory game account.
* Enter your preferred MapleStorySEA account User ID, Password and other requested information. Make sure you choose a strong password and remember it.
* Congratulations, you have successfully created your MapleStorySEA game account.