Support - XIGNCODE
Click on headers to expand and collapse information.
| | |
| --- | --- |
| • | URL: http://www.playpark.com/sg/page/iBox |
| • | Inquiry Type: General |
| • | Message Body: XignCode Error (Code and/or Message) |
| • | Attachment Link: "xigncode.log" after compressing the file (using .zip or.rar). |
| • | Please upload the attachment to a free hosting website (eg. dropbox) and send us the link. |
Where is the xigncode.log located?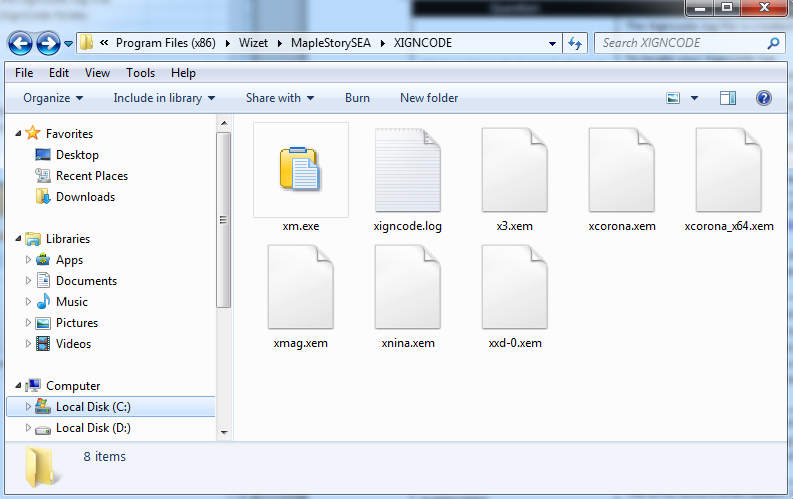 * Default directory: C:\Program Files (x86)\Wizet\MapleStorySEA
* File name: xigncode.log



Did you receive the XignCode message: "Illegal programs detected" (0x00000000)?
This message is displayed only when a suspicious activity is detected on your computer. Please restart your PC, then carry out the PC System Stabilization steps as described below.

[Ways to Stabilize Your PC]
1.
Keep your operating system up-to-date by updating Windows.


2.
Check your system again. Update your anti-virus program, then please try running a search. If you're not currently using an anti-virus program, please download one from the link: Microsoft Security Essentials


3.
Close any unnecessary programs from the Task Manager (Ctrl+Alt+Del).


4.
Uninstall the game, and carry out a fresh install.

* Control Panel ▶ Uninstall a Program ▶ Uninstall MapleStory

* Remove the MapleStory installation folder:
(default directory: C:\Program Files (x86)\Wizet\MapleStorySEA).

* Please download MapleStory again from the official homepage.


If the problem continues after the system check, please send a ticket to MapleSEA iBox Customer Support with the xigncode.log file. The .log file can be found under the directory ▶ C:\Program Files (x86)\Wizet\MapleStorySEA.
Runtime errors related to XignCode require a specific process of care. Please always check the PC Specifications to ensure you are running a compatible system.
If this did not solve the problem, please contact us.


| | |
| --- | --- |
| 1. | Blue screen occurs for various reasons. Please provide the memory dump file for us to analyse if the error is caused by Xigncode. |
| 2. | The file is usually saves as Memory.dmp on system route path commonly located in C:\WINDOWS\Memory.dmp. |
| 3. | Provide information on how the blue screen occurred so that we can provide a solution. |
| | |
| --- | --- |
| 1. | Check internet connection and DNS settings. |
| 2. | Turn off anti-virus' real-time function, firewall and windows firewall and retry. |
| 3. | If the error recurs, please send a ticket to MapleSEA iBox Customer Support with the download link of your xigncode.log file. |
| | |
| --- | --- |
| 1. | The error occurs when game client is executed more than once. |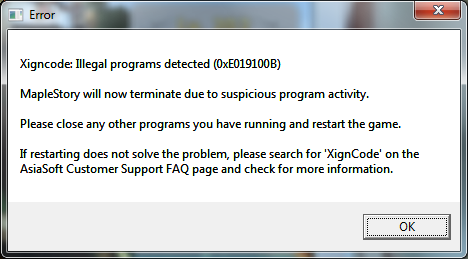 | | |
| --- | --- |
| 1. | Delete any kind of hack tools in your PC. |
| 2. | Make sure to scan all files from your PC with an anti-virus / malware program that is updated to the latest version. |
| 3. | Delete all files in the "temp" folder before starting the game. The default location is C:\users\computer name\appdata\local\temp |
| 4. | If the error recurs, please send a ticket to MapleSEA iBox Customer Support with the download link of your xigncode.log file. |
| | |
| --- | --- |
| 1. | xxd.xem file detected and deleted via anti-virus program. |
| 2. | Update your anti-virus program to the latest version. |
| 3. | Add MapleStorySEA game client and its sub-folders into the Anti-virus program's exclusion or exception list. |