Updates
20 May 2019
Adventure: Pathfinder Patch Notes (v186)
Dear Maplers,
Wield an Ancient Relic accompanied with a curse! Master the curse and utilize various Ancient Arts and use an Ancient Bow imbued with power as we take on a new Adventure! Be the Pathfinder now!
And with that, here's our schedule for a fun-filled and exciting Adventure!
  22 May 2019 -
Momentum
  5 June 2019 -
Pathfinder
  10 July 2019 -
Odyssey
MapleStorySEA Adventure (v186) Patch Notes can be found
here
!
New Job: Pathfinder
An adventurer with a piqued interest, she encountered an ancient relic during one of her adventures, acquiring the ancient power of archery at the expense of being subjected to the Ancient Relic's Curse.
Wielding an Ancient Bow, Pathfinder uses it to combine three different archery techniques, while charging the Relic Gauge to unleash more powerful skills! Draw upon the Ancient powers known to none and tread the path you want!
Pathfinder will be available from 5 June 2019 (after maintenance).
Key Attributes
Faction: Explorer
Class: Archer
Main Stat: DEX
Weapon: Ancient Bow
Secondary Weapon: Relic
Maple Union Attacker Unit Member Effects: DEX +10/20/40/80/100
Link Skill: None
New Area: Partem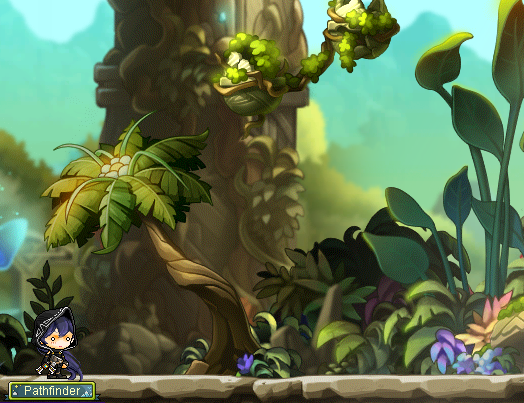 Explore the ruins hidden amidst the lush greenery of Partem and solve the mystery of the Ancient Relic!
Pathfinder Skills
Pathfinder uses a unique Relic Gauge System that is empowered by the different skills used.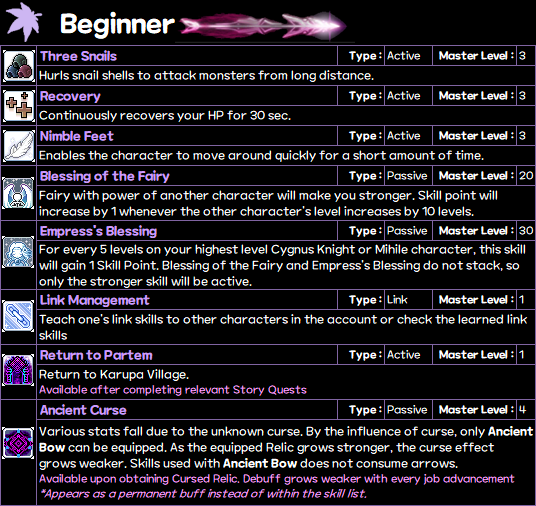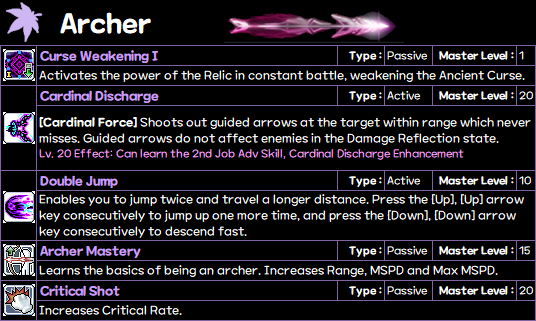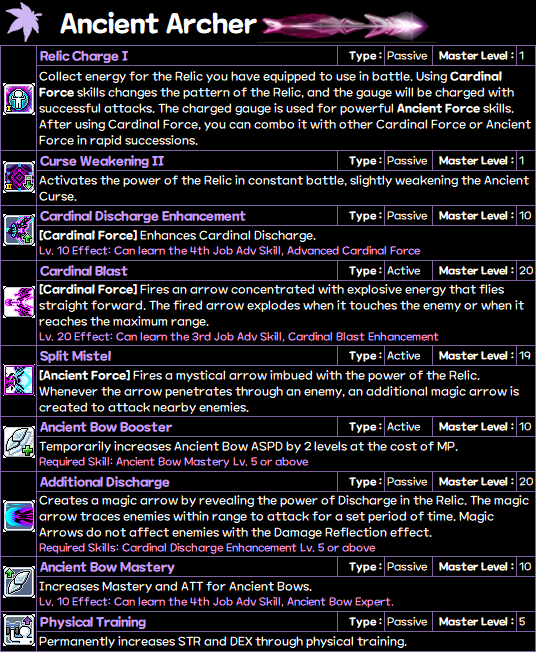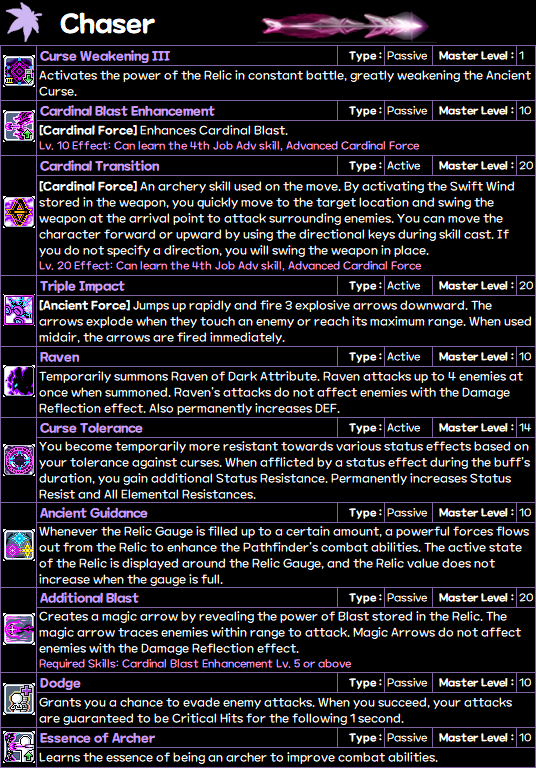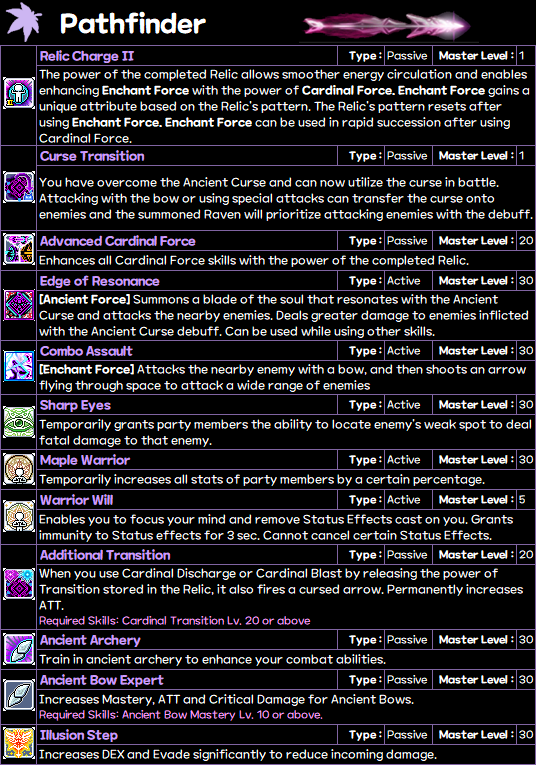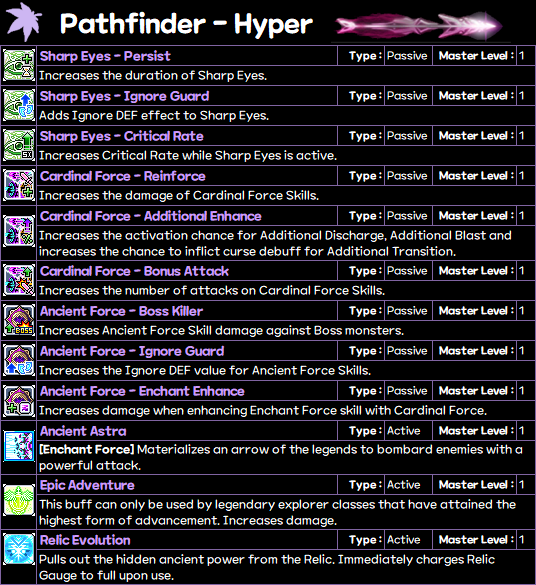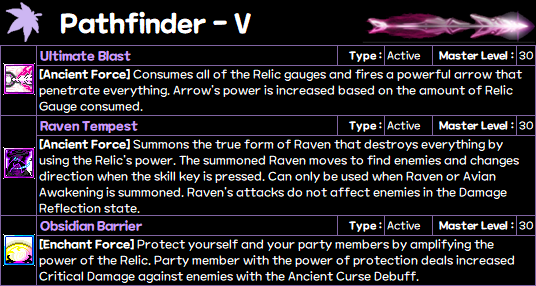 Pathfinder can Enhance the following skills with
V Enhancement Cores
:
Cardinal Discharge/Additional Discharge

Cardinal Blast/Additional Blast

Cardinal Transition

Raven

Split Mistel

Triple Impact

Edge of Resonance Enhancement

Combo Assault Enhancement

Ancient Astra Enhancement

Pathfinder can also learn the following Common V Skills:

Avian Awakening

Guided Arrow

Critical Reinforce


---
Pathfinder Pre-Creation Event
Be the Pathfinder... first!

Log in and create your Pathfinder from 22 May 2019 onwards to be the first to play Pathfinder when it is released on 5 June 2019!

Event Duration: 22 May 2019 (After Patch) ~ 4 June 2019, 2359hrs
Requirements: Character receiving rewards must be Level 61+
How to Participate: Log in to the game, and create a new Pathfinder character

Note: This is a pre-registration event, and all rewards will only be credited at a later time. This quest can only be completed once per Maple ID.
Pathfinder cannot enter the game until 5 June 2019, after the Server Maintenance.


Pre-Creation Rewards
How to Receive: Access the Star Notifier and select the quest Receive the MapleStory Pathfinder Pre-launch Creation gift!
Reward Claim Duration: 5 June 2019 (After Maintenance) ~ 18 June 2019, 2359hrs

Obtain the following rewards when you pre-create your Pathfinder in game!
Adventure Coin x300

Land Turtle Pet Coupon x1

Land Turtle Pet Equipment Coupon x1

Ancient Relic Coupon x1

Adventure Label Ring Coupon x1

Adventure Quote Ring Coupon x1

Damage Skin - Pathfinder x1

Equip Tab 8 Slot Coupon x1

Use Tab 8 Slot Coupon x1

Set-Up Tab 8 Slot Coupon x1

Etc Tab 8 Slot Coupon x1