Updates
05 Apr 2017
Mid Spring Patch Notes (v166)
Click on the respective section titles below to view detailed information!
---
1. New System: Auction House

A new and improved method of trading has arrived, the Maple Auction!
How to Access: While in town maps, you can do either of the following: • Click on the "Quick Move" button and then select the Maple Auction NPC • Click on the "Menu" button, and then select the option, "Go to Maple Auction"
Introduction to Auction House
• You can list up to 10 items per Maple ID at a time. Each listing will last 24 hours. • A listing deposit of 2,000 Mesos will be consumed and a transaction fee of 5% will be deducted upon a successful transaction. • There are no limits to the amount of purchases made via the Auction House • However each purchased item will consume a "Bid" count, and these can only be cleared upon collecting the item from the Auction House • You can check your limit cap via the "Slot" button • Untradable items, Inter-Account tradable items cannot be sold.
Auction House Categories
→ Search: This is where you will perform your searches and make your item purchases → Sell: Setting up items to be sold will be performed here → Transactions: This will be where you claim your meso, unsold items as well as purchased items
Search Functions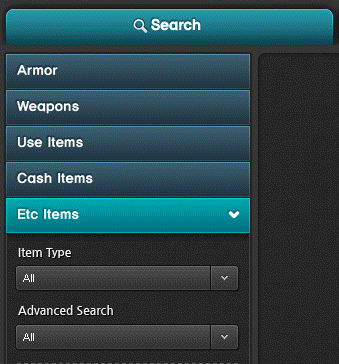 • Using the search functions, you can sort and find items with the following category. → Armor → Weapons → Use Items → Cash Items → Etc Items • Click on the respective category, then specify what you're looking for, and click the search button!
Tip: Not sure what you're looking for? Just simply choose a category and click search! Everything will be listed based on that category you selected.
Buying Items • Simply select an item you wish to purchase. • Click the buy button. • A confirmation window will appear. Please ensure you're buying the desired items you wish to pay for. • Upon successful purchase, head on to the Transactions tab, and click to collect your item.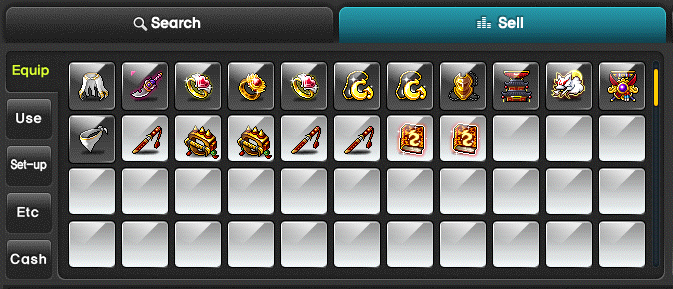 Selling Items • Simply click the Sell tab. • Select an item from your inventory, and drag and drop to the space where it says 'Drag the item you want to sell here.'. • Type in the price you wish to sell, and click list item! • Upon successful listing, you'll see it on the Items for Sale section of the UI. • In the event you do wish to cancel a particular listing, simply press the X button on the particular listing.




• You'll be able to claim your Mesos, purchased items, and unsold items on the Transactions tab • Items that are not sold during the listing period can be retrieved on the Transactions tab • Items with a grey background cannot be sold • If your items appear to be missing in the Transactions tab after selling/purchasing it, simply exit and re-enter the Auction House again
MVP Benefits If you're an MVP user of at least Silver rank, you'll gain the following benefits: • Increased amount of items available for listing • Increased listing duration available. (48 Hours Option) • You'll be able to get a bigger space on the Purchased section on the Transactions tab. • Lowered Transaction Fees.
Read more about MVP from the here.

---
2. Skill Updates

"Return" skills have been added to the following classes: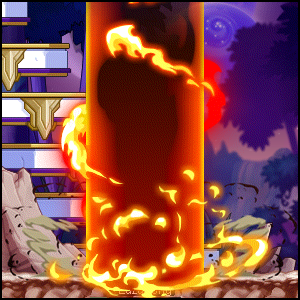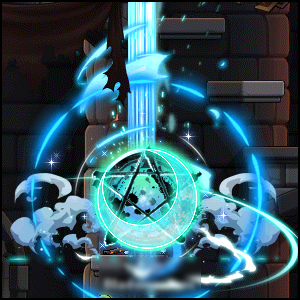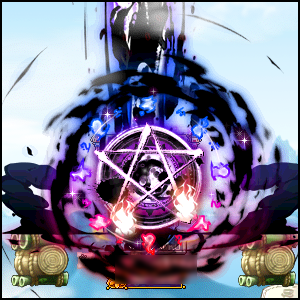 • Hayato: Returns character to Momijigaoka. Cooldown: 600sec • Kanna: Returns character to Momijigaoka. Cooldown: 600sec • ZEN: Return character to Nautilus. Cooldown: 600sec

---
3. Issues Addressed

• The issue with Hayato's skills, "Rai Sanrenzan", "Sword Discipline" & "Eye for an Eye", have been resolved as accordingly • Azwan Liberation will no longer be accessible as of v166 Update (Normal and Hard Hilla contents are still available) • Nine Spirit's Egg will now give the Dragon Stone item and buff. However please ensure that you have enabled the relevant chain of quests, beginning with NPC Kumo in Leafre's quest, "Hero's Mark" (min. level required of 120)