Updates
23 Aug 2022
[Cash Shop Update 240822] Midnight Summer
1)
Midsummer Night's Dream Set - Sale ends 7th September
2)
Removals
---
Midsummer Night's Dream Set
Midnight night~ Summer Night Night~
Note:
All decorative cash items are permanent.
All items contained in both Midsummer Night's Dream Set can be equipped by characters of both genders.
Each package contains the following items:-
  ➢ A Piece of Sweet Dream
  ➢ Night Skylight Overall/Night Skylight Dress
  ➢ Fantastic Shoes/Fascinating Shoes
  ➢ The Great Fairy's Wings
  ➢ Midsummer Lily of the Valle
  ➢ Midsummer Night's Jewel
  ➢ Emerald Resting Chair Exchange Coupon

Upon usage of Emerald Resting Chair Exchange Coupon , you will be able to obtain a tradeable and permanent Emerald Resting Chair.
You are advised to utilize the exchange coupons before their expiry to prevent loss of items. Items lost due to expiry cannot be compensated.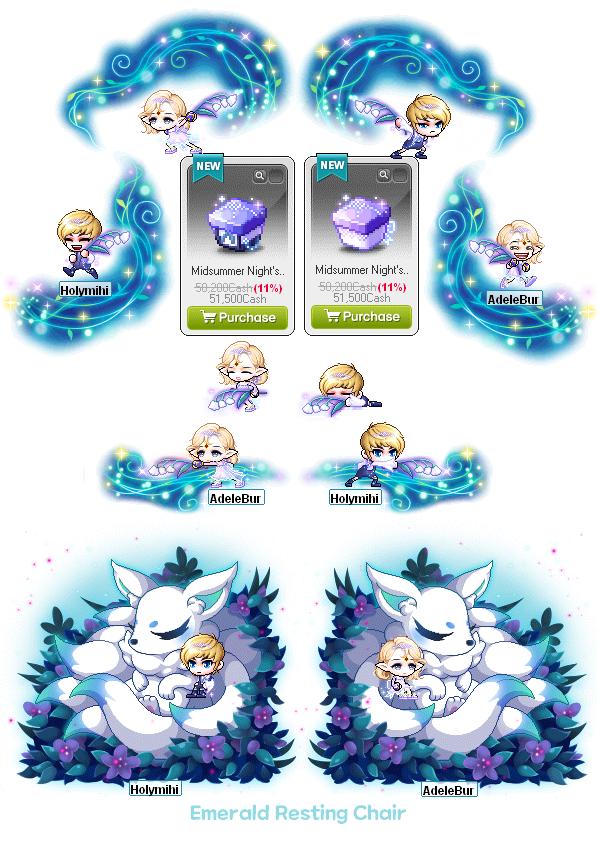 ---

Removals

From the Cash Shop Update of 10th August 2022.
  ➢ Mysterious Keeper Set (M)
  ➢ Mysterious Keeper Set (F)
  ➢ Heavenly Wing Box
Midsummer Vibes~~