Updates
22 Mar 2021
[Cash Shop Update 240321] When Moon and Stars Collide
1)
[Special] Moon Bunny Packages - Sale ends 7th April
2)
[Special] Spring Star Royal Beauty - Sale ends 7th April
3)
Removals
---
Moon Bunny Packages
What if.. what if... bunnies were from the moon just like dinosaurs were on earth? *gasps in shocking revelation*
Note : Both Moon Bunny Packages (M) and (F) comes with a
10% EXP Boost Ring
that last 14 days.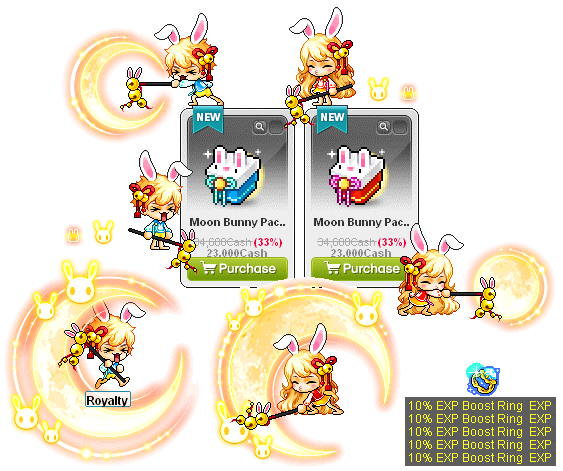 ---
Spring Star Royal Beauty
Spingy Stars that grants beauty to it's beholder. Grab them before they spring away~
Note : Each purchase of Spring Star Royal Hair Coupon or Spring Star Royal Face Coupon comes with a
free gift of Lucky Star (11)
that is Untradable regardless of bought with Maple Cash or Maple Points.


---
Removals
From the Cash Shop Event of
10th March 2021
.
  ➢ Golden Apple (1)
  ➢ Golden Apple (5)
  ➢ Golden Apple (15)
  ➢ Golden Apple (50)
  ➢ Golden Apple (100)
Always Shine Bright =)