News
13 Oct 2021
Design Your Story Season 4 - Who is Next? Winning Designs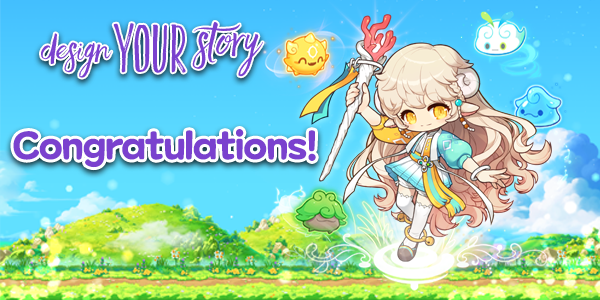 Hello dear Maplers!
It's me, the Charmer of Elements at your service! My name is Lara and I'm currently on a quest to ring the mysterious bell from my hometown, Naryn! Join me in MapleStorySEA come this November, as I share my adventures across the Maple World in order to fulfill my destiny! 
Briefly around 2 months ago, we sent out a challenge to Maplers titled under Season 4 of
Design Your Story
. All budding artists were tasked to design any item they'd want to see in the game with the theme revolving around me!
With the brilliant display of talents, it was a tough time choosing my debut outfit! After considerable decision making and a little help from all of my Nature Spirits, I present to you the winners of the 4th season of Design Your Story! 
Note: The gallery page is best viewed in Google Chrome at 1920x1080 screen resolution.
Update as of 13th October 2021, 2207hrs (GMT+8):
Due to image cropping issues, the winning designs have been reuploaded to show only the selected designs as some of the previously uploaded images contained multiple designs that were not part of the winning selection. Sorry for the miscommunication!