Events
18 Aug 2021
Design Your Story Season 4 - Who is Next?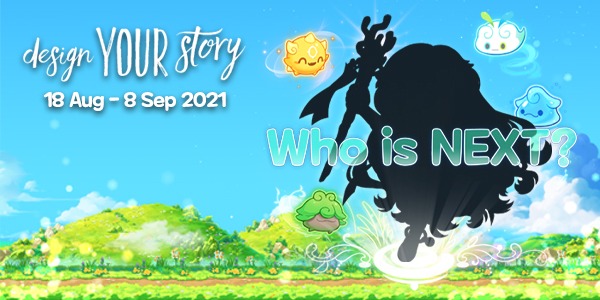 Hey Maplers!
We're back, with another round of 'Design Your Story' contest! This time, in anticipation of a special appearance by a very special someone who is coming to MapleStorySEA, we would like to invite all Maplers to come up with item designs for this hero who is going to be our latest Maple World resident!
Being friends with the nature spirits, our hero can channel powers from these spirits to conjure up different elements in battle!
So wait no longer! Grab your pencils and sketchbooks, put on your creative cap, and get designing! Let's make our special guest feel your warm welcome for when he/she finally moves in to MapleStorySEA!!
---
Design Your Story Contest
MapleStory has always been your story to tell, your path to choose. Now, we're letting your creative juices get a chance to flow with this contest, so you can
design YOUR story
!
It's simple, just draw, design or in any other way showcase your desired in-game items, and send it to the submission e-mail address! It's so simple, so why not just give it a shot? Who knows, your design may just be the next highly-coveted aesthetic item by players all across the globe!
---
How to Participate?
For this round's contest, there is only an open category where
and all you need to do is to create designs specially for our upcoming hero. Can you guess who this hero will be?
Being able to befriend nature spirits and call upon their powers, MapleStorySEA's latest upcoming character is an Anima Mage who wields a wand set out on a journey from a legacy passed down their many generations.
Expect a lot of colors in our little mage's skillset as these nature spirits aid in battles with their different elements of
Earth
,
Wind
,
Fire
and
Water
!
This journey is going to be a long one, so remember to dress light and hang a good luck charm for good measure!
Submit your entries via e-mail with your Maple ID, IGN and World, and hang on tight! Once all entries have been received, they will be reviewed and winners will be selected internally by PlayPark Pte Ltd and Nexon Korea Corporation. All submissions will be displayed after the event has been concluded.
---
Rewards
Wondering what rewards are awaiting you?

For every design submitted,
They will be posted to our event gallery upon conclusion of the event and internal review.
All participants, excluding the Top 10 winners will receive 2,500 Maple Points per MapleID. Up to a maximum of 5 designs can be submitted, but the reward will be given only once per MapleID.
The winners with the Top 3 best designs,
will have their designs sent for development in-game. Upon successful development and implementation into the game, the participant who submitted the original idea will be the first to receive the items and receive bragging rights!
will be awarded up to 100,000 Maple Points and other rewards depending on their rank placement in the contest.
will receive exclusive MapleStorySEA merchandize, as well as an in-game "Artist Medal" as theirs to keep!
Note: Prize reward images are for illustrative purposes only and may differ slightly from the actual product. Due to differences in monitors and photography lighting, colors of products may also appear different to those shown on this page.
4th to 10th place winners,
will also have their designs sent for development in-game and receive the items upon their release into the game.
will be awarded 30,000 Maple Points and an in-game "Artist Medal".
---
Event Mechanics
Event duration: 18th August to 8th September 2021
Submissions: Send your submissions in an email to the designated email address with the subject "Design Your Story Season 4 - Submission by [[MapleID]]". Multiple submissions should be separated and sent with separated individual e-mail submission. Please include your Maple ID, IGN, and World in your e-mail. We may disqualify incomplete submissions.
For Example: Design Your Story Season 4 - Submission by mymapleid123
Item sets: Multiple items of the same theme will be referred to as a "set". Each entry will also refer to being a single set. A set includes but is not limited to one (1) item from each item category. For example, a set can consist of 1 hat, 1 overall, 1 cape, 1 shoe, 1 chair, etc. Opposing genders equipment will be considered the same set. However, if there are more than 1 type of the same item category in the set (e.g, 2 different hats), it has to be heavily backed by reason, otherwise it will be considered a submission for a different set.
Design Theme/Concept: As you may have already guessed, a new Hero will be released in MapleStorySEA during this year's end patch content update. All designs submitted for DYS S4 should be directly relatable to this hero.
Restrictions: Up to 5 submissions will be allowed per Maple ID.
Rationale: Each submission should include a short write-up about the item to better illustrate the rationale behind the design (not required but highly recommended)
Submission medium: Entries can be submitted either digitally or scanned from pictures done traditionally, or in any other media form. Purely text-written submissions listing out ideas without any image of the design concept will not be accepted.
Submission identification: Each submission MUST INCLUDE the participant's Maple ID, IGN, and World. Each submission should have a set name (if it is part of a set), and all individual designs should have its own names for identification purposes.
Winners: There will be up to Top 10 winners for this contest (decided after review by PlayPark Pte Ltd and Nexon Korea Corporation). Other suitable designs will also be sent for development if they are appropriate.
Accepted Designs: There are no limitations to the submissions, as long as it is an asset or element in the game that is relatable to the upcoming new class, is skinnable, and not a functional item with in-game benefits. This includes but is not limited to:

Cash Equipment (including Weapons)
Cash Effects and Rings
Hair and Face Styles
Chairs (including Couple/Multi-chairs within reason)
Mounts
Pets (including their Equipment)
Androids
Emotions





Hint hint: "Pssst... A gentle reminder that our hero is a Wand wielding Anima character, so do remember to include the unique feature of Anima characters. For reference, you can take a look at our mischievous Ho Young in game."



At a quick glance....



* in-game medal





---


Want to start but not sure how? We have you covered! Simply download our template file provided and start designing. With our template, you can design almost anything that goes on the character!






---




Terms and Conditions




PlayPark Pte Ltd and Nexon Korea Corporation reserves the right to edit the colour scheme of the item when necessary to set a common colour scheme for all items.
PlayPark Pte Ltd and Nexon Corporation may disqualify any submissions deemed inappropriate and/or not suitable without prior notice. Disqualified works shall not be eligible to receive any form of reward.
Nexon Korea Corporation shall own the intellectual property rights to the Contents and any derivative works.
If a winning item is accused of plagiarism, the participant shall forfeit the prize and at the same time the participant shall bear the legal responsibility for the plagiarism. This rule shall also apply to all other non-winning entries who are found guilty of plagiarism.
Winning entries will be developed into game items to be gradually released into MapleStorySEA, however the release schedule may be changed without prior notice and notification.
All submissions must be sent to the designated email.
All decisions by PlayPark Pte Ltd and Nexon Korea Corporation are final & binding.
PlayPark Pte Ltd and Nexon Korea Corporation reserve the right to edit or change any of the above without prior notice.


So what are you waiting for? Come on and get sketching!!