Events
14 Nov 2017
OctoMaple Heroween Levelling Result
Dear Maplers,
Many of you have trained MapleStory Heroes during the
Heroween Levelling Event
, and we will now announce the winner for the event!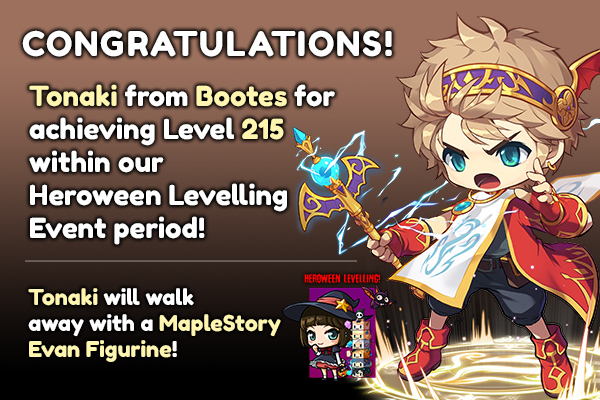 Congratulations!
Tonaki
has achieved Level 215, a whopping 4 levels ahead of the 2nd in running!
Listed below are the levels of the highest level each MapleStory Hero made during the event achieved, alongside Tonaki! Each of them will be awarded with
35,000 Maple Points
!
Tonaki, Level 215 Evan from Bootes
Effectant, Level 211 Phantom from Bootes
Subneo, Level 210 Luminous from D2J
PeachyDlRB, Level 209 Mercedes from Aquila
rscV, Level 204 Aran from Aquila
LauraHearts, Level 203 Eunwol from Aquila
Players who are ranked in the top 20 will also receive
20,000 Maple Points
(excluding the top 6 winners). Congratulations to the following players!
InvIVinn, magiluv, NotAnEIf, Pixiefishie, AscendioX, xKry3, snowyloveu, cuckedbyguan, KIEKEE, ENNlE, Senseiplss, GaryyyChia, ADDOLA, EInqiE.
Players who are ranked in the top 21 to 50 will receive
10,000 Maple Points
, and all other players who participated in this event (Reached at least Level 100 and completed 4th Job Advancement) will receive
3,000 Maple Points
!
Note: Please note that the Maple Points crediting might take up to 2 weeks. Highest level achieved refers to characters that are created during the event period and are either Aran, Evan, Mercedes, Phantom, Luminous, or Eunwol only. A follow-up email will be sent to the top winner's registered email address.