Events
10 Nov 2021
Maple Beats Hits Da'Streetz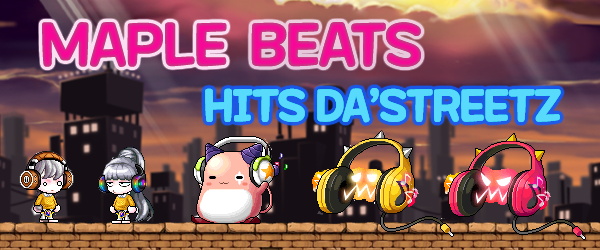 Waddup all Maplers!
Pink Bean is about to go live ON AIR very soon and is holding a campaign for all you supporters!
In the Cash Shop, a series of headsets endorsed by Pink Bean has been released right now with a lucky draw attached to it! Simply purchase any one headset during this sale period and you may win yourself some cool MapleStorySEA Yeti merchandise!
MECHANICS
From now until 16th November 2021, 2359hrs (GMT+8), simply purchase any of the 6 Eargasmic Headsets from the 10th November Cash Shop Update.
The more headsets you purchase, the more chances you will receive! (Up to 5 chances!)
9 Lucky Winners will walk away with MapleStorySEA Yeti Merchandize!
TERMS & CONDITIONS
Promotion is open to all MapleStorySEA players.
Headsets MUST be purchased during the event period of 10th to 16th November 2021; existing headsets in possession prior to this event will NOT be counted towards the lucky draw.
Only purchases in Maple Cash will be counted, in-game purchases that use a mix of Maple Cash and Mileage, or Maple Points will NOT be included for this event.
The eligible headsets are as follows: 1000010 Headset, Starlight Headset, Nitro Adrenaline Headset, GOGOA Headset, Buddy Headset, Vintage101 Headset.
The person who PURCHASES the headset (regardless of gift or personal) will be the one that gets the lucky draw entry ticket, NOT the recipient.
Winners will be notified via their MapleSEA Passport registered email address.
Winners will only receive a maximum of ONE (1) Set of MapleStorySEA Yeti Merchandize regardless of the number of MapleIDs within the Passport account that fulfills the event criteria.
Players must ensure that their email addresses stated on their MapleSEA Passport account is active and accurate.
PlayPark Pte Ltd and Nexon Korea Corporation will not be held responsible in cases of lost email, or cases whereby the recipients of prizes cannot be contacted via their registered email address tied to their MapleSEA Passport account.
Winners will have to bear incidental costs, if any, that may arise for the fulfillment of the prizes.
In light of the current situation with limited mobility, physical prize fulfillment may be delayed. PlayPark Pte Ltd will do their utmost to ensure the proper fulfillment of prizes regardless.
PlayPark Pte Ltd and Nexon Korea Corporation shall not be held responsible for any disputes over the event results or claim of prizes.
PlayPark Pte Ltd and Nexon Korea Corporation reserve the rights to suspend or take action against any user found to breach the policies set forth in our Terms of Use, User Abuse Policy, and Rules of Conduct without any prior notice.
PlayPark Pte Ltd and Nexon Korea Corporation reserve the right to amend and/or remove the promotion and associating terms and conditions at its discretion without any prior notice.
All decisions by PlayPark Pte Ltd and Nexon Korea Corporation are final & binding.
- MapleSEA Administrator