Events
12 Nov 2020
Feel the burn! With Tera Burning+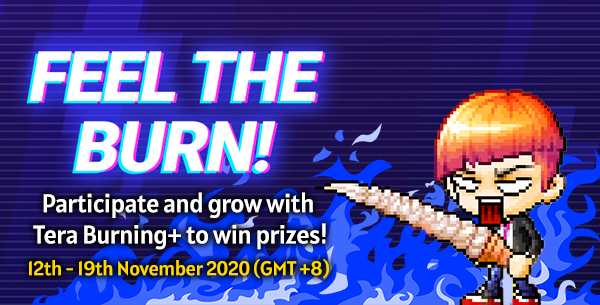 It's back! Levelling has never been easier – and we have just the perk for Maplers looking for a competitive thrill.
For new Maplers, a detailed summary explaining how Tera Burning+ works can be found
here
.
From
12th November 2020 to 19th November 2020, 2359 Hours (GMT+8)
, we are challenging Maplers across worlds to clinch a
minimum
climb of
60
levels.
At the end of the event period, we will be selecting 10 winners at random who will each receive 1 + 2 prizes!
Here's what you need to know:
• Feel the burn! will run from 12th – 19th November 2020, 2359 hours (GMT +8) • Participants are required to clinch a minimum climb of 60 levels during the event period • Winners will be picked at the end of the event period and will each receive 1 + 2 mystery prizes • Feel the burn! is independent from the current in-game
<Tera Burning> Project! Get a Gift!
quest
Terms & Conditions
• All classes are eligible to participate except Zen and Zero • The maximum participation level cap for this event is 140. Example: Players who join with their level 140 characters are expected to reach level 200 at the end of the event period. • With the above provision, players who participate with characters above 140 will not be considered. • No registration for this event is required. Players who fulfil the event requirements will be automatically included for verification. • A total of 10 winners will be selected at random. • Winners of the event will be contacted via their registered email addresses. • Players must ensure that their
email addresses stated on their MapleSEA Passport account is active and accurate.
• In light of the current situation with limited mobility, physical prize fulfilment may be delayed. PlayPark Pte Ltd will do their utmost to ensure the proper fulfilment of prizes regardless. • PlayPark Pte Ltd and Nexon Korea Corporation will not be held responsible in cases of lost email, or cases whereby the participants cannot be contacted via their registered email address tied to their MapleSEA Passport account. • PlayPark Pte Ltd and Nexon Korea Corporation shall not be held responsible for any disputes over the event results or claim of prizes. • PlayPark Pte Ltd and Nexon Korea Corporation reserves the rights to suspend or take action against any user found to breach the policies set forth in our Terms of Use, User Abuse Policy, and Rules of Conduct without any prior notice. • PlayPark Pte Ltd and Nexon Korea Corporation reserve the right to edit or change any of the above without prior notice. • All decisions by PlayPark Pte Ltd and Nexon Korea Corporation are final & binding.