Events
25 Dec 2021
MapleMas Special: MVP Lounge Flash Challenge
Introducing our very first MVP Lounge Special Flash Challenge!
Simply be one of the first 9 in your respective worlds, to be the fastest to find and buy a
limited MVP Special Chair Exchange Coupon
!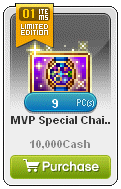 You've heard that right! All
MVP Gold and above
players will be able to stand a chance to walk away with a limited
Universal Time Tracker Chair
as shown below.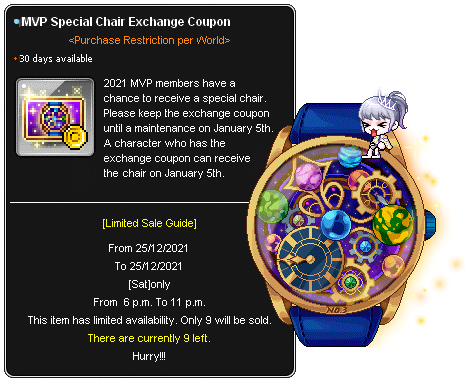 Each chair is engraved with a Serial Number that indicates the purchase sequence. Depending on how fast your fingers are, you will be able to exchange your coupon for the Chair corresponding to your purchase. The first buyer will get the No.1 Chair, second buyer will get the No.2 Chair and so forth.
Remember, only 9 Chair Coupons will be available in each world!
Event Date: Saturday, 25th December 2021 Time: 1800hrs ~ 2259hrs (GMT +8) Quantity per World: 9 ONLY
Mechanics:
The Coupon will only be visible to MVP Gold and above players in the Cash Shop > Event > MVP Lounge.
The Coupon can be purchased with Maple Cash or Maple Points.
The Coupon cannot be gifted.
The Coupon can only be purchased ONCE PER WORLD.
There are only 9 Coupons available in each world.
The Chair will be credited during the Maintenance on 5th January 2022, after which the Coupon will then expire and be deleted from your inventory.
Your Chair's serial number will be based on your purchase sequence.
Wanna be qualified for a chance for this limited item to be yours? Learn more about our MVP System
HERE
!
You may also wanna know how the new
MVP Lounge system
works.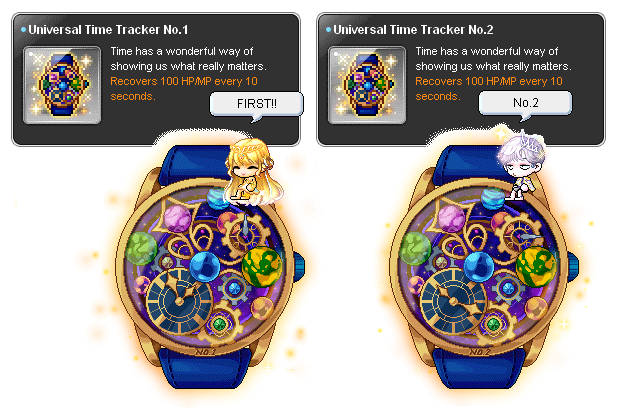 ♤♤♤ May your fast fingers be with you. ♤♤♤