Events
11 Dec 2020
2020 1212 20% Deal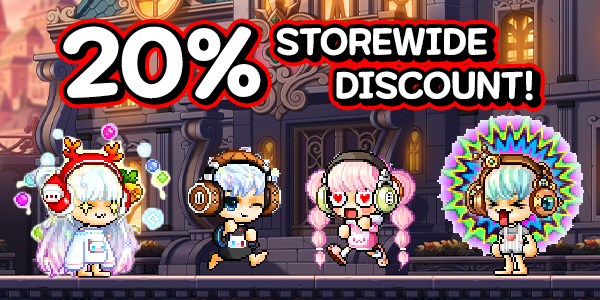 We come around to yet another 12-12 End-of-Year Special
20% Storewide Discount on most items*
!
*Categories/Items not included in the Storewide Discount are as follows: » Cube Bundles » Package Category » Mileage Shop Items » Items on sale from
Cash Shop Update of 9th December 2020.
Event Period: 12th December 2020 0000hrs ~ 2359hrs
---
Aside from that, there's extra perks if you achieve certain spending tiers today!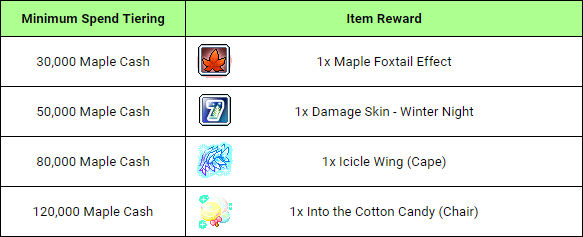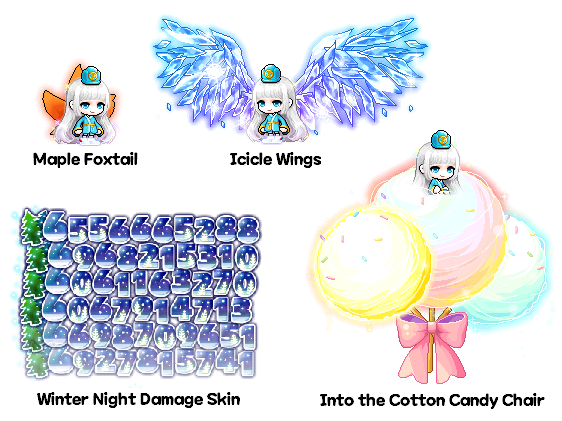 Note
• The item codes will be sent to your registered MapleStorySEA Passport email address on 18th December 2020. • All un-redeemed item codes will expire on 31st January 2021. • You will only get the item reward that corresponds with the spending tier that you have reached. To illustrate, if you have spent up to 250,000 Maple Cash on 12th December 2020, you will be entitled to get all rewards from all 4 tiers. • Each Passport account is only eligible to receive 1x of each qualifying tier rewards, i.e. 65,000 Maple Cash spent will qualify you for 1x Maple Foxtail Effect and 1x Winter Night Damage Skin (not 2x effect and 1x damage skin)
- MapleSEA Administrator