Updates
13 Nov 2019
GLORY: Ho Young Patch Notes (v190)
Dear Maplers,
Spunky Sage Ho Young reporting for duty! Embark on a journey while mastering the various magic of Celestial World. Would the cheeky thief be able to evade Master's watchful eyes and restore the peace that Ho Young has interrupted?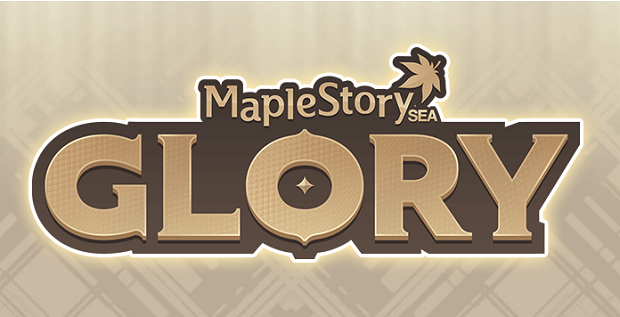 MapleStorySEA Glory (v190) Patch Notes can be found
here
!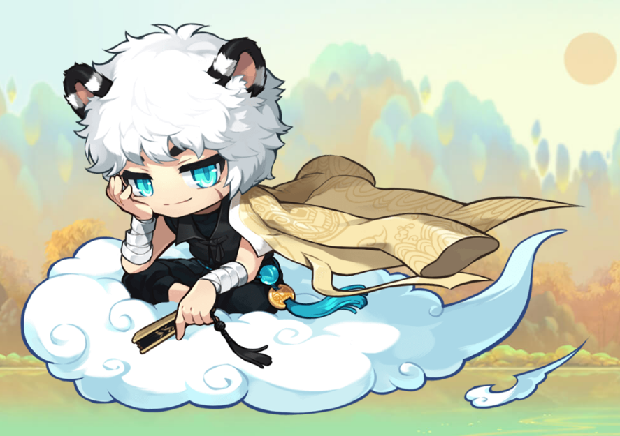 New Job: Ho Young
Ho Young, a member of the Anima race in Grandis, is a thief who learned special magic from the Celestial World. Ho Young accidentally unlocked the seal of Docheol that left Grandis in a state of chaos! Taking on the responsibility of his mistake, he left the boring Celestial World behind to explore the many civilizations in the outside world.
To find out more about the different monsters released from the seal of Docheol, he journeyed to Cheongun Valley, and became a Spiritbinder that runs all sorts of errands. Join Ho Young as he explores Cheongun Valley, Grandis, and Maple World, to bring peace back to them!
Key Attributes
Faction: Anima
Class: Thief
Main Stat: LUK
Weapon: Buchae
Secondary Weapon: Buchae Tassel
Maple Union Attacker Unit Member Effects: LUK +10/20/40/80/100
Link Skill: Confidence
New Area: Cheongun Valley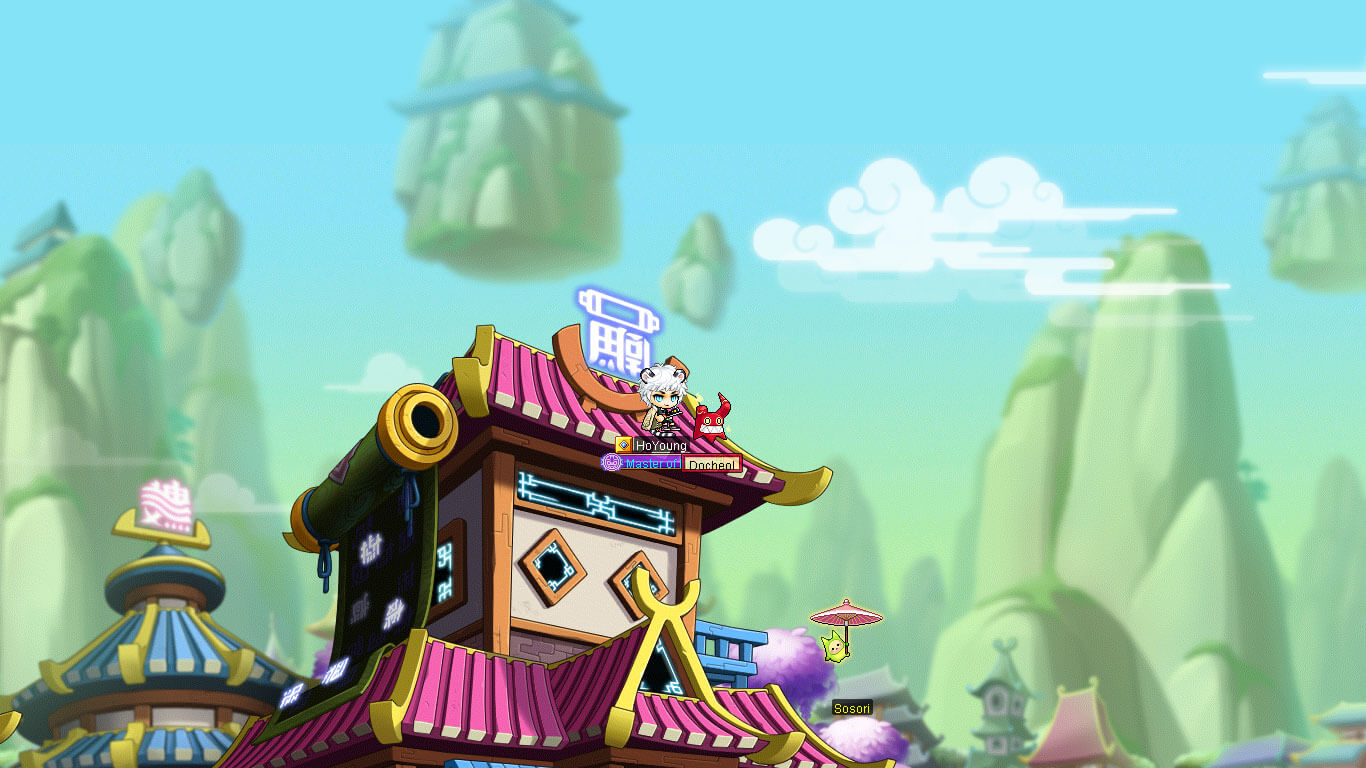 A new planet emerges! Explore the town that several Grandis' Races call home!
Ho Young Skills
Ho Young uses a unique Talisman and Scroll Magic Gauge System that is powered up by the various Elemental Magic that he commands (Heaven, Earth, and Human Elemental Magic)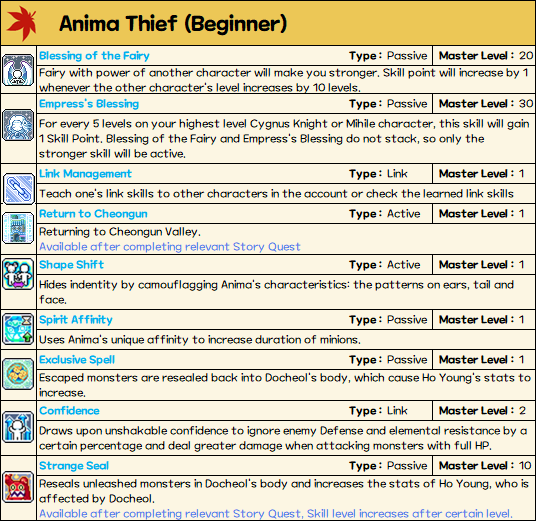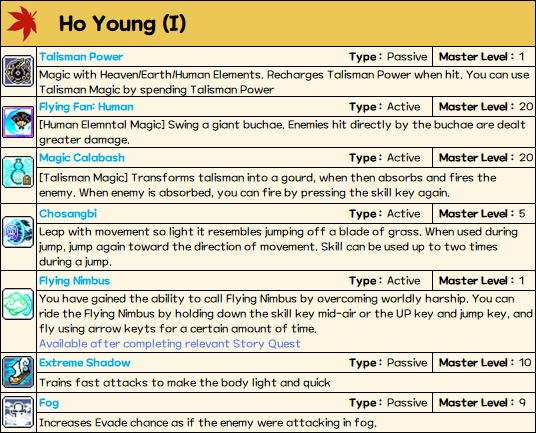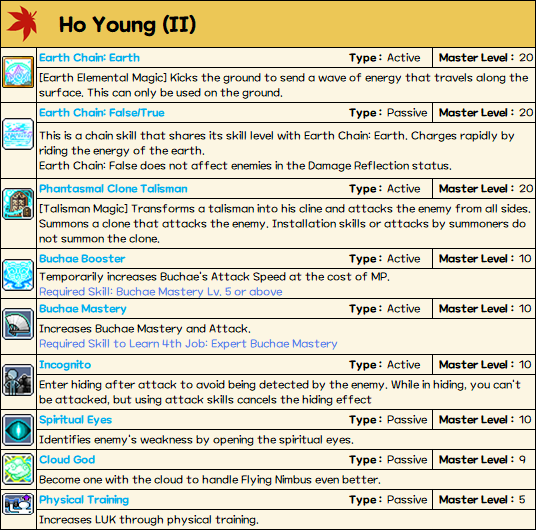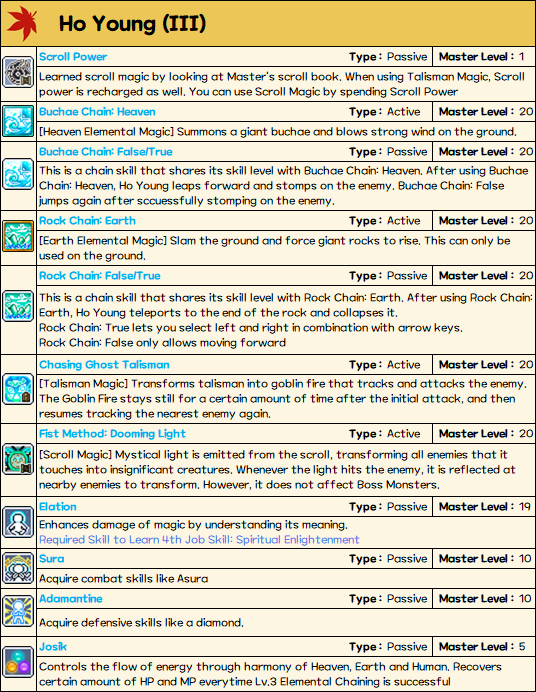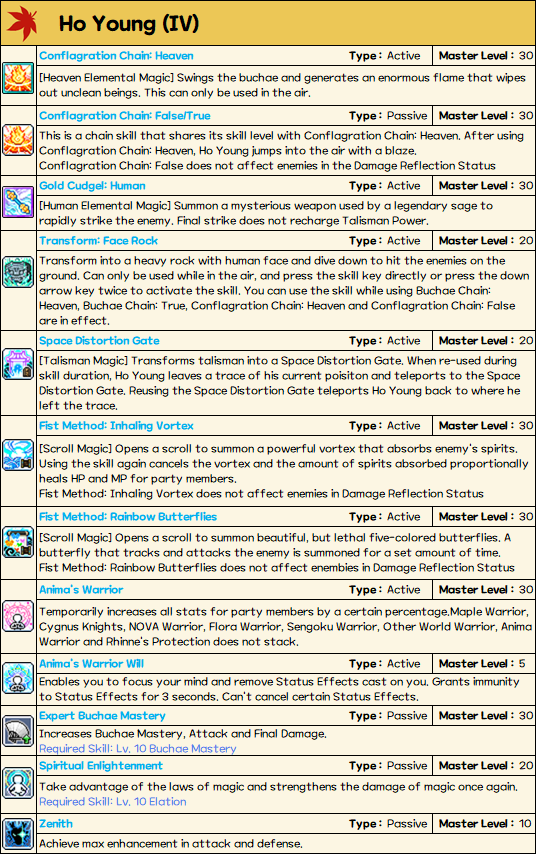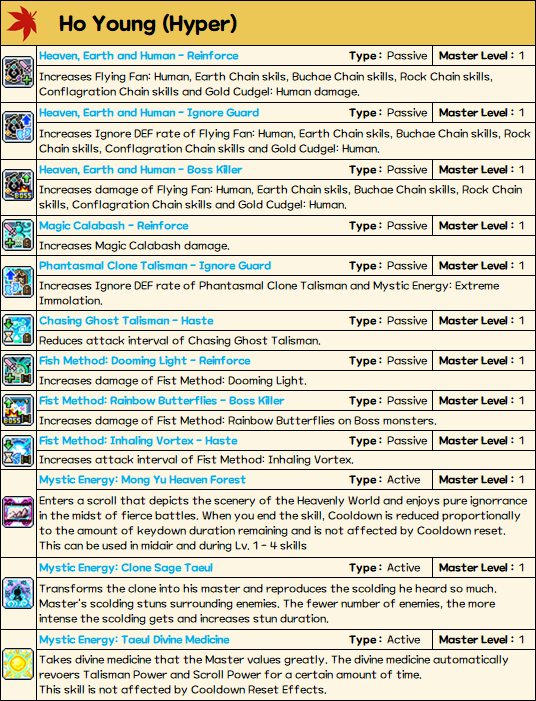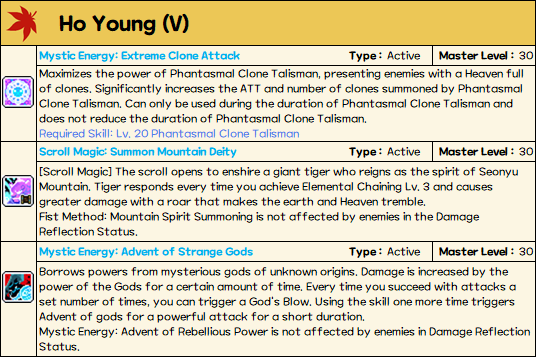 Ho Young can enhance the following skills with
V Enhancement Cores
:
Flying Fan: Huamn/Gold Cudget: Human

Earth Chain/Rock Chain

Buchae Chain/Conflagration Chain

Magic Calabash/Transform: Face Rock

Chasing Ghost Talisman

Scroll Magic: Dooming Light

Scroll Magic: Rainbow Butterflies

Scroll Magic: Inhaling Vortex

Phantasmal Clone Talisman/ Mystic Energy: Clone Sage Taeul

Ancient Astra Enhancement

Ho Young can also learn the following Common V Skills:

Grandis Goddess's Blessing

Venom Burst

Blood for Blood

See you in Cheongun Valley!