Updates
09 Jul 2019
[Updated] Maple Mania Event Highlights (v187)
[Update as of 16th August 2019]
Dear Maplers,
We have compiled all eligible winners for Maple Mania that ran during our v187 patch, and we are proud of the following Maplers who never gave up and against all odds, rose to the top as the fastest few to complete all Maple Mania Card Sets!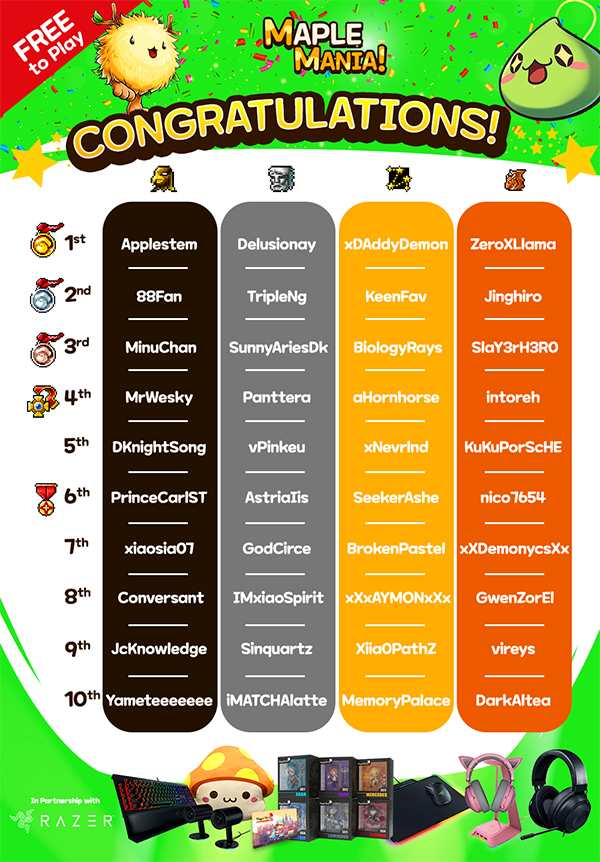 Note: IGNs of winners are listed as they were on 14 August 2019, should any Character Name Change Coupon have been utilized since the completion of the event.
Winners will be contacted via their
registered email address
on their MapleSEA Passport Account within the next week with regard to prize collection.
Fret not if you did not make the cut, don't give up and stay tuned for more ranking events in the future.
Here's to congratulate all Maple Maniac winners!
Happy Mapling!
-MapleSEA Administrator
---
[Update as of 8th August 2019]
Heya Maple Maniacs, we are in the midst of compiling all the eligible winners. Please stay tuned to this page and our
MapleSEA Facebook Page
for further updates! Winners will be announced by
16 August 2019
. Stay on your toes, and remember to never give up!
---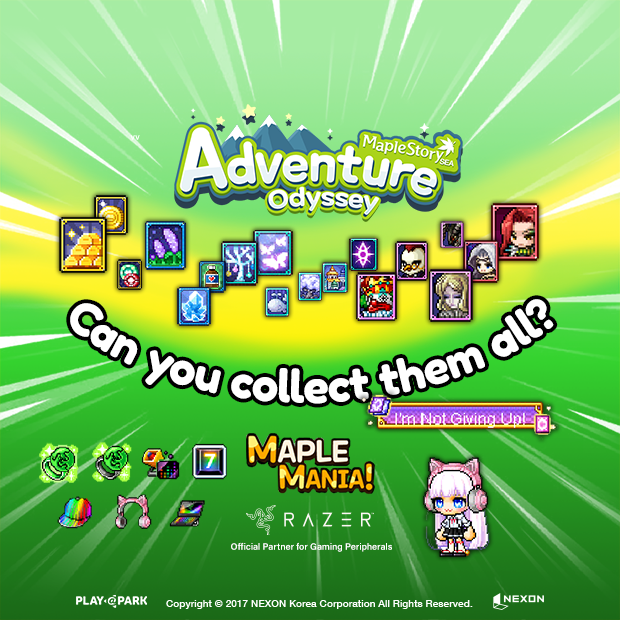 Dear Maplers,
Maple Mania is back once again! Are you an avid card collector or a hoarder of any sorts? If so, this event will be a walk in the park! If you're not, fret not! Find, collect, trade! Follow these three simple steps and you'll be hailed as a master cards collector in no time!
This time around, we'll even kickstart you off by giving you a special Title right when you start off your Maple Mania journey!
Event Duration:
10 July 2019 (After Patch) ~ 6 August 2019, 2359hrs
Requirement:
Level 61+
How to Start:
Accept starting quest
I'm a Maple Maniac!
from the Star Notifier on the left side of the screen.
---
Event Overview
• Collect cards that have been scattered around Maple World!
• Receive rewards when full card sets are formed!
• Each card set can only be submitted to Cassandra
once per world, regardless of character used
.
• Special rewards will be available for the
1st to 10th ranked players of each world
who have submitted all card sets, fastest fingers first.
• Please note that this
excludes Event World: Burning World
. Only top rankers in Aquila, Bootes, Cassiopeia, and Draco can win Special Rewards.
• There are a total of 5 different card sets to be collected
  - Maple NPC Shop
  - Professions
  - Arcane River
  - Root Abyss
  - The Weirdest Pairing - Cygnus & Hilla
• Obtain cards by performing a variety of tasks, not limited to just hunting monsters!
• All Maple Mania event cards are
tradable
, so feel free to ask a friend or two if they have spare cards lying around! Everyone has their own strengths, after all!
• Maple Mania Information can be accessed in-game by checking on the guide given in the quest, or by browsing the
in-game browser
for the information listed in this site.
• Do keep Level Range Monster* requirements in mind throughout this event!
• It is said that this event requires a whole lot of
hard work
and a
dash of luck
.
---
Collecting Cards
Laying out the groundwork here! Feel free to read in between the lines and get ahead of everyone on your journey to our coveted prizes!
•
Maple NPC Shop Set
  -

Ardentmill Card: Seek the man that has all the wares...
  -

Monster Park Card: ... that's TWENTY Extreme Gold potions, you know?
  -

Union Card: You should know not to mess with the big bad dragon.
•
Profession Set
  -

Herbalism Card: Oh c'mon, not this again?
  -

Mining Card: Back to hearing clink, clink, clink.
  -

Fatigue Card: Perservere. Never give up. 200 is the magic number!
•
Arcane River Set
  -

Nameless Village Card: Please do not swim in Erda. Please.
  -

Chew Chew Island Card: The monsters here look surprisingly yummy. Please do not eat them, though.
  -

Lacheln Card: ....is that a nightmare? Or am I just Lucid dreaming?
  -

Arcana Card: Happy spirits, cute spirits. Do not let the evil spirits spoil this beautiful tranquil scene.
  -

Moras Card: Is this a memory, or were monsters always this annoyingly huge in size?
  -

Esfera Card: Once again, please do not swim in Erda.
•
Root Abyss Set
  -

Pierre Card: Red, Blue, Red, Blue, Red? Blue!
  -

Von Bon Card: Tick tock, tick tock.
  -

Crimson Queen Card: One, two, three, four. Can't beat that!
  -

Vellum Card: You really dare challenge HIM?
•
The Weirdest Pairing - Cygnus & Hilla
    Cygnus:
    Hilla: I guess that means you're almost as pretty as me.
  -

Cygnus Card: Well, Empress, I'm so sorry.
  -

Hilla Card: Oh Hilla, your eyes mesmerize me so. I would sit beside you in front of the Gachapon machine all day...
Annnd, yeap! Here's wishing you the
best of luck
, Warriors of
Cassandra
MapleStorySEA!
---
Rewards
• Collect a full set and place them all in your inventory, then turn them in to Cassandra for rewards!
• With every set you have completed, you can receive the rewards as set out below, and the bonus stats on your
I'm Not Giving Up!
title will be extended by 7 days from the date of completion!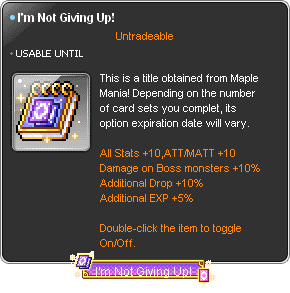 • Title Stats expiry can be shared with any character in the same world in the same Maple ID. Simply log in to the character whose Title's stat expiry you would like to extend, and select the quest
[Maple Mania] Transfer of The Title's Expiry Period
from the Star Notifier.
•
Maple NPC Shop Set
- Spell Trace
x200
- 2X EXP Coupon (30 min)
x3
(3 days, inter-account tradeable) •
Profession Set
- Never-Extinguishing Flame
x1
- Twisted Essence of Time
x100
- Trait Boost Potion
x1
(3 days, untradeable) •
Arcane River Set
- Spell Trace
x500
- Selective Arcane Symbol x1 Coupon
x6
(3 days, inter-account tradeable)
•
Root Abyss Set
- Rainbow Resurrection Flame
x3
(3 days, untradeable)
- Core Gemstone
x3
(permanent, inter-account tradeable)
•
The Weirdest Pairing - Cygnus & Hilla
- 1000 Mileage
x1
(3 days, untradeable)
- Yellow Cube
x10
(3 days, untradeable)
- Mysterious Meso Pouch
x5
(1 day, untradeable)
•
Completion of all Card Sets
- Unique Potential Scroll 50%
x2
(3 days, inter-account tradeable)
- Confusion Fragment
x2
- EXP Core Gemstone
x1
(permanent, untradeable)
World Rank Rewards
Collect and complete all available card sets the fastest and place the 1st to 10th
(each world excluding Event Worlds)
for a special reward on top of the rewards listed above!
Up to SGD 6,500
worth of rewards to be won!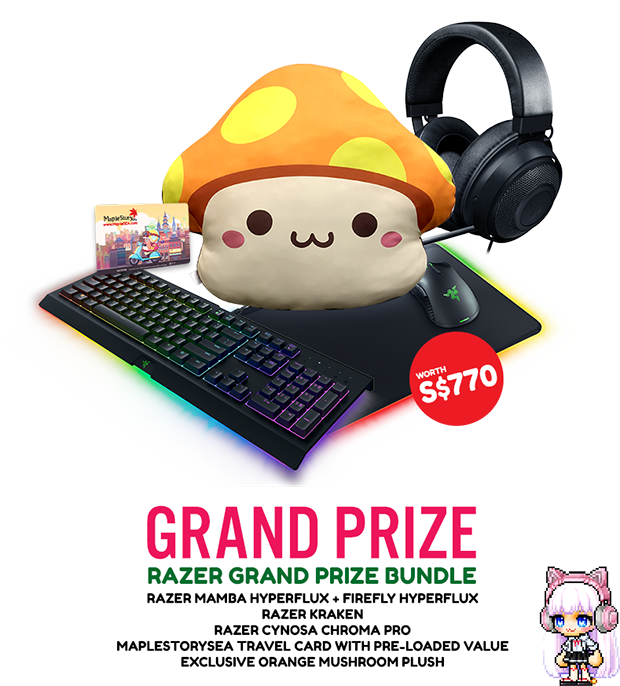 ---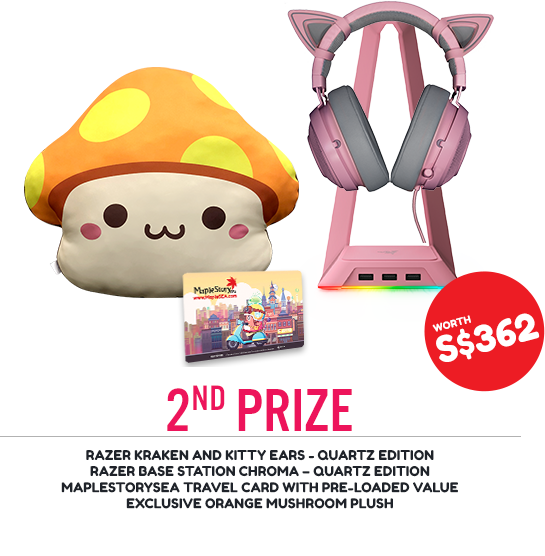 ---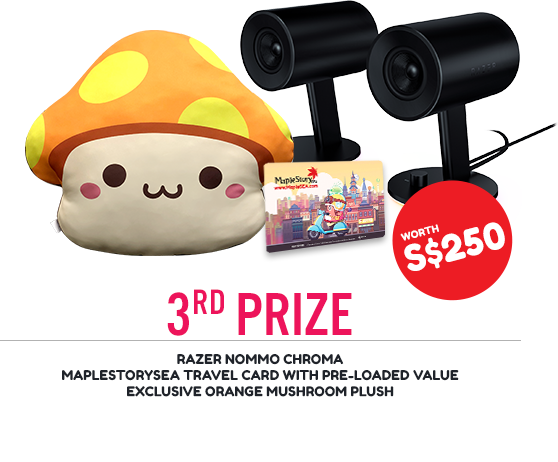 ---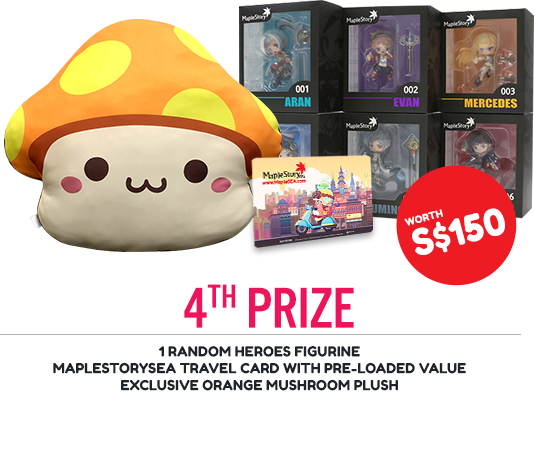 ---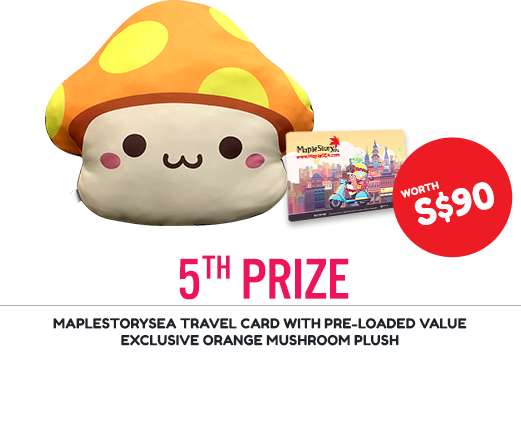 ---
6th to 10th
: In-game Cash Item Bundle
- Black Cube x2
- SEA Royal Hair Coupon x1
- SEA Royal Face Coupon x1
Maple Mania! Coin Shop
And with Maple Mania, we have yet another special coin shop! Visit
Mania Yeti
who specializes in all things gaming for the latest gaming peripherals!
Mania Yeti accepts
Maple Mania! Coins
that can be obtained from hunting Level Range Monsters*. It's that easy! Collect coins and purchase special event items, only sold during this patch as a collaboration with our Official Partner for Gaming Peripherals, Razer! Special collaborative items are now available for purchase from Mania Yeti ONLY.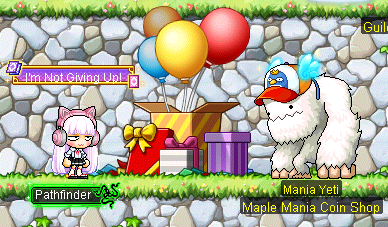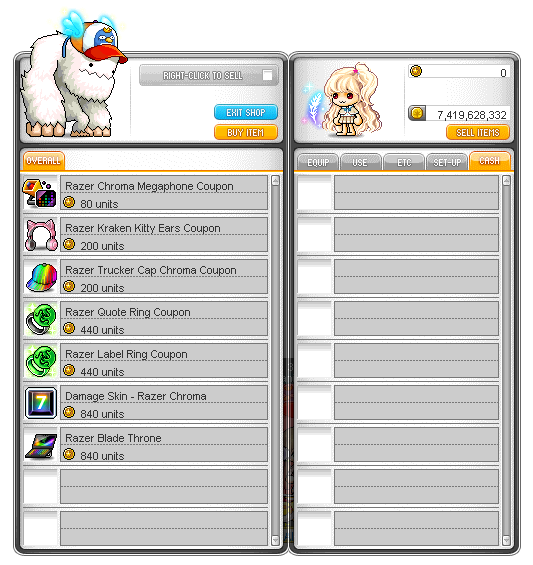 Note: Damage Skin - Razer Chroma cannot be extracted with Damage Skin Extraction Coupon
* Level Range Monsters refer to monsters between -20 and +20 of your character's level with no exceptions for monsters above a certain level.
Happy Mapling, and once again we wish everyone the best of luck and remember, fastest fingers first!
Terms and Conditions :
• Top prizes will only be awarded to permanent Worlds: Aquila, Bootes, Cassiopeia, and Draco. Current Event World: Burning World will not be eligible to win any World Rank Reward
• This event is organized by PlayPark Pte Ltd, Nexon Korea Corporation and participating partners, also known as the Organizers.
• Partners' prizes are for illustrative purposes; actual prizes may differ in color or design.
• Employees (and immediate family) of the Organizers and its respective divisions, affiliates, authorised dealers/distributors, agents; suppliers of the Prize(s); and any other company professionally connected with this event are not eligible to enter the event rankings.
• Winners must ensure that their particulars stated in their MapleSEA Passport is accurate to prevent errors or delay in prize collection. The Organizers will not be held responsible in cases whereby the participants or winners cannot be contacted via their registered email addressed tied to their MapleSEA Passport belonging to their Maple ID.
• Winners will have to bear incidental costs, if any, that may arise for the fulfillment of the prizes.
• The Organizers shall not be held responsible for any disputes over the claim of prizes.
• Each participant agrees to release the Organizers, Sponsors and the employees, officers, directors, agents, representatives of the Organizers and Sponsors, its affiliates, subsidiaries, advertising, promotion, and fulfillment agencies, and legal advisors, harmless from any and all losses, damages, rights, claims and actions of any kind in connection with the Event or resulting from acceptance, possession, or use of any prize, including without limitation, personal injury, death, and property damage, and claims based on publicity rights, defamation, or invasion of privacy.
• Entry into this online event constitutes agreement for the sponsors and contest organizers to publish the photos of the winners in the contest website, press and/or any other media that the Contest Administrator deems fit, reserving the rights of such publications fully and the right to contact you in the future.
• The Organizers reserve the right to replace the prizes with a different item of equal or similar value at any point of time during the contest.
• The Organizers, PlayPark Pte Ltd and Nexon Korea Corporation reserve the right to disqualify and take action against any player that violates our abuse policy.
• PlayPark Pte Ltd and Nexon Korea Corporation reserves the rights to make any changes to the above mentioned without any prior notice.