Updates
26 Feb 2019
Spring Update Patch Notes (v184)
Dear Maplers,
Spring has arrived!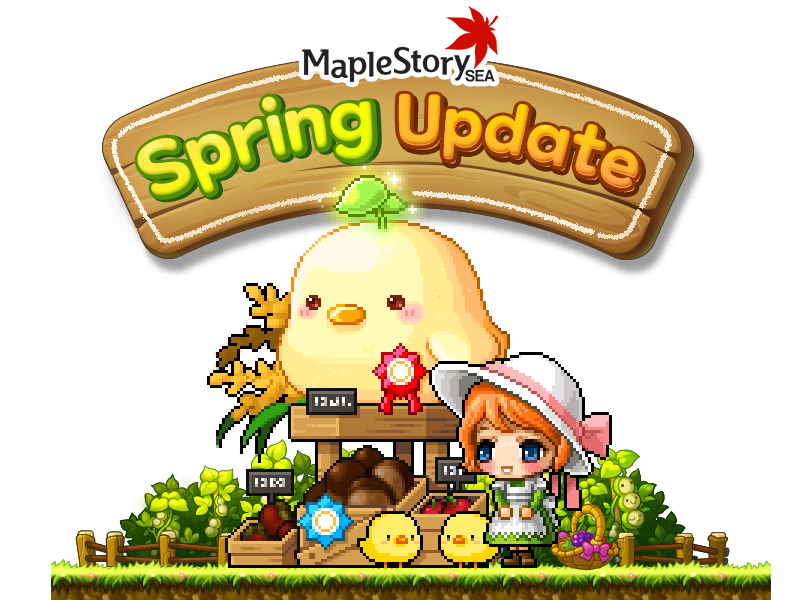 TABLE OF CONTENTS
1. Theme Dungeon: The Case of Detective Rave
2. System Updates
---
Maintaining law in a lawless city must be tricky...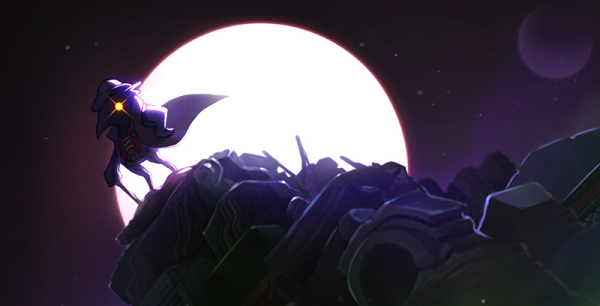 Level Requirement:
175+
Initial quest:
[Detective Rave's Case Record] You won Free Luxurious Tour!
How to access:
Lightbulb on the left side of the screen (Level 175+)
Synopsis
The perfect place for luxurious vacation... or for a group seeking for quick gains in this lawless city? Unravel the twists in this story with the (not very) famous Detective Rave!
Rewards
Upon completing Theme Dungeon: The Case of Detective Rave, you can receive a commemorative medal.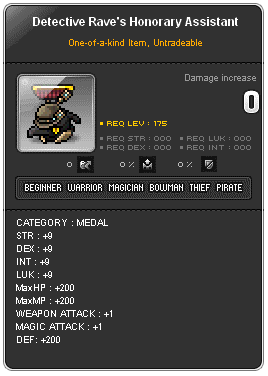 Note: Angelic Buster and Kaiser would need to complete relevant story quests before they can proceed with the Detective Rave Case Diary Theme Dungeon
---
Game Related
• The Game Exit Confirmation window has been refreshed with a new look and will display several information:
   ➢ Total play time for the current session
   ➢ Level and EXP gains
   ➢ Any unreceived rewards: Union Coins, Monster Collection Expedition Rewards, Deia's G-Potions, Mu Lung Dojo Points, MVP Rewards
   ➢ Any item expiring within 24 hours
   ➢ Specific time-based events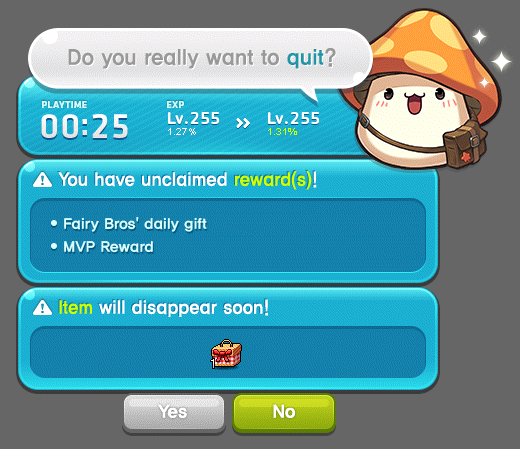 • There will now be a confirmation window when using a Cash item buff that overlaps with a buff currently in use.
• The requirement to use Meso Market, Auction House, Cash Trade, Gifting and other related functions is now minimum level 61 and at least 3 days old
• Cooltime duration that restricts trading via Auction House when connecting from a different IP has been reduced
• The Equipment Enhancement window can no longer be opened in Flame Wolf maps.
• Several items will be removed from the Cash Shop: Pet Perfume Pack, Intermediate Knights Package, Advanced Adventurer Package and Legendary Heroes Package.
Known Fixes
(Updated 27 Feb 2019)
• A change with regards to a bot detection mechanism that caused a change in the Attack Speed limits in v183 has been rectified
• An error where equipping the Balance Pup Tail while having the Shadow Style effect active would cause the client to disconnect has been fixed
• An error where the cash item DJ JM Label Ring could not be disposed with the Clothes Collector NPC has been fixed
• An error where the Mileage Shop button led to the wrong page within the Cash Shop has been fixed
• An error where the Zombie Hunter Chair would not show a correct image when used has been fixed
• An error where Princess Nou's Secondary items had inconsistent spelling has been fixed
• An error where Enlightened Arkarium's Soul was misspelled has been fixed
• An error where Crafter IGN would appear abnormally on equipment created with the Professions system has been fixed
• An error where mobs would stop randomly has been fixed
• An error where Vellum sometimes could not be attacked properly when bound has been fixed
• An error where the Equipment Enhancement UI will sometimes cause the character to be unable to move when it is used while in Flame Wolf has been fixed
• An error where the Flag Race invitation would not appear in Limen has been fixed
• An error where players cannot use the Flame Wolf Portal in certain Korean Folk Town maps has been fixed
• An error where the Mileage quest for defeating Chaos Pierre would appear as completed while still fighting him has been fixed
• An error where the client would disconnect when opening Union Window while clicking the OK button for Boss Party Matchmaking has been fixed
• An error where certain buttons will still play their SFX despite moving the cursor away in Monster Life has been fixed
• An error where a slot bag will be incorrectly displayed when obtaining an item that will be placed in the bag from Alicia's Ring Boxes and Root Abyss Sealed Boxes has been fixed
• An error where Mercedes' Link Skill Transfer quest's Link Management skill location was incorrect has been fixed
• An error where Black Bean Equipment had random stats has been fixed
• An error where using Item Link in Whisper to a recipient in a different channel would cause the item name to appear twice has been fixed
• An error where the Item Link would still remain in the Buddy/Party/Guild chat even after removing it has been fixed
• An error where changing Inner Abilities would sometimes cause the client to disconnect has been fixed
• An error where double jumping from a high position in a field map would sometimes cause the client to disconnect has been fixed
• An error where the follow feature was possible while sitting on chairs has been fixed
• An error with the Fensalir items drop rate in Tenebris areas and Fox Valley has been fixed
Known Skill Fixes
• An error where Soul Master's Soluna's Slash skill's master level would sometimes appear as 0 has been fixed
• An error where Wild Hunter's Call of the Hunter summoned monster attacking would sometimes cause disconnections has been fixed
• An error where Bishop's Precarious Memories would not ignore the cooldown time of Heal has been fixed
• An error where Zero's Advanced Spin Cutter skill description had incorrect values for the sword slash has been fixed
• An error where Paladin's Guardian Spirit would revive all allies when used in Ursus has been fixed
• An error where Hero's Sword of Burning Soul would not be released after entering Ursus has been fixed
• An error where Warrior's Aura Weapon skill's additional aura waves sometimes did not activate has been fixed
• An error where if Thief's Venom Burst skill's poison brought an enemy's HP to 1, the poison would disappear but the effect would remain has been fixed
• An error where registering Thief's Shadow Partner skills as a pet skill would cause other attacking skills motions to be repeated twice has been fixed
• An error where Special Core: Overcoming Experience I has an incorrect buff name when activated has been fixed