Updates
08 Aug 2018
Maple Mania Event Highlights (v178)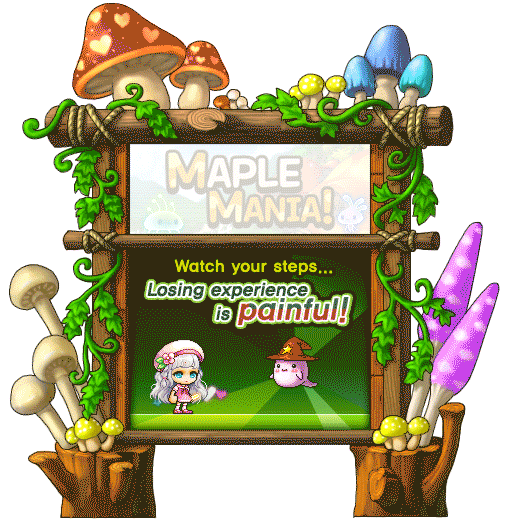 Dear Maplers,
Maple Mania is here! Are you an avid card collector or a hoarder of any sorts? If so, this event will be a walk in the park! If you're not, fret not! Find, collect, trade! Follow these three simple steps and you'll be hailed as a master cards collector in no time!
Event Duration:
8 August 2018 (After Patch) ~ 18 September 2018, 2359hrs
Requirement:
Level 33+
How to Start:
Click the Star Icon > Accept starting quest "I'm a Maple Maniac!"
---
Event Overview
• Collect cards that have been scattered around Maple World!
• Receive rewards when full card sets are formed!
• Each card set can only be submitted to Cassandra
once per world, regardless of character used
.
• Special rewards will be available for the
1st to 10th ranked players of each world
who have submitted all card sets, fastest fingers first.
• There are a total of 5 different card sets to be collected
- Ludus Lake
- Professions
- Arcane River
- Tower Under The Ocean
- Sad Souls

• Obtain cards by performing a variety of tasks, not limited to just hunting monsters!
• All Maple Mania event cards are
tradable
, so feel free to ask a friend or two if they have spare cards lying around! Everyone has their own strengths, after all!
• Maple Mania Information can be accessed in-game by checking on the guide given in the quest, or by browsing the
in-game browser
for the information listed in this site.
• Do keep Level Range Monster* requirements in mind throughout this event!
• It is said that this event requires a whole lot of
hard work
and a
dash of luck
.
---
Collecting Cards
Here's some hints to kickstart your journey on collecting the cards! Of course, it won't be fun if everything was spelled out, so feel free to read in between the lines and get ahead of everyone on your journey to our coveted prizes!
•
Ludus Lake Set
-

Ludibrium Card: Hunt away!
-

Omega Sector Card: Maybe it's with the big washing machine UFO?
-

Korean Folk Town Card: Help out Wiz the Librarian! (Or if you already completed it, that'd be a breeze!)
•
Profession Set
-

Profession Material Card: Who can make you a Meister, holds this.
-

Gathering Card: Gather, gather gather...
-

Mining Card: Err... mine, mine, mine..?
-

Smithing Card: Sometimes, I forgot that I can obtain item crystals too.
-

Alchemy Card: And sometimes I like to try my luck.
-

Fatigue Card: Tire yourself out!

•
Arcane River Set
-

Road to Extinction Card: Hunting research samples day after day, let's hope we can glean something else from all that hunting!
-

Chew Chew Island Card: We need some ingredients for dinner, get something fresh for us, would you please?
-

Lacheln Card: Nightmares must end, even if it is an illusion of a happy life. We must put an end to it.
-

Arcana Card: Evil spirts begone!
-

Moras Card: My memories might be old, but I clearly remember something here...
-

Esfera Card: Where things once begin, that's where everything will start.

•
Tower Under The Ocean Set
The floors of the Tower Under The Ocean are challenging enough that the card names are self-explanatory. Good luck!
-

Fleta Card: You have to have trust!
-

Spider Card: Eggs?
-
Woodman Card: A card of heart heart of gold?
-

Lion Card: Summon your courage!
-

Scarecrow Card: *chants* Please don't burn, card, please.
-

Dorothy Card: I really hope you brought some treats for Toto along with you.

•
Sad Soul Set
Once souls, then commanders, and now... cards?!??
-

Lotus Card: Lotus! That was easy. ...wait, what? Where's my card?
-

Orchid Card: Close ties with Lady Luck? Good for you, because Orchid is too!

Annnd, yeap! Here's wishing you the
best of luck
, Warriors of
Cassandra
MapleStorySEA!
---
Rewards
Collect a full set and place them all in your inventory, then turn them in to Cassandra for rewards!
•
Ludus Lake Set
- Spell Trace x500
•
Profession Set
- Primal Essence x1
- Twisted Essence of Time x100
- Confusion Fragment x1
•
Arcane River Set
- 2x EXP Coupon x3
- Core Gemstone x3

•
Tower Under The Ocean Set
- Unique Potential Scroll 100% x1
- Yellow Cube x10
•
Sad Soul Set
- Rainbow Resurrection Flame x3
- Incredible Chaos Scroll of Goodness 60% x3
- Perfect Carving Stamp x3
•
Completion of all Card Sets
- [Title] I'm a Maple Maniac! x1 (Note: Title Stats last for 90 days, item is permanent)
- Selective Arcane Symbol x2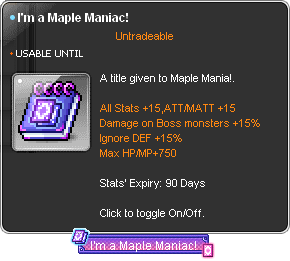 World Rank Rewards
Collect and complete all available card sets the fastest and place the 1st to 10th
(each world)
for a special reward on top of the rewards listed above!
Up to SGD 5,000 worth of rewards to be won!
Ranking rewards for each world
1st
: Secretlab Chair TITAN Tempo
2nd
: 1 year supply of Mountain Dew + one Ribbon Pig plush
3rd
: Random of 4 Heroes Figurines
4th
: ARK USB Stick + 100k @cash
5th
: Random of 1 Hero Figurines
6th to 10th
: In-game Cash Item Bundle
- Black Cube x2
- SEA Royal Hair Coupon x1
- SEA Royal Face Coupon x1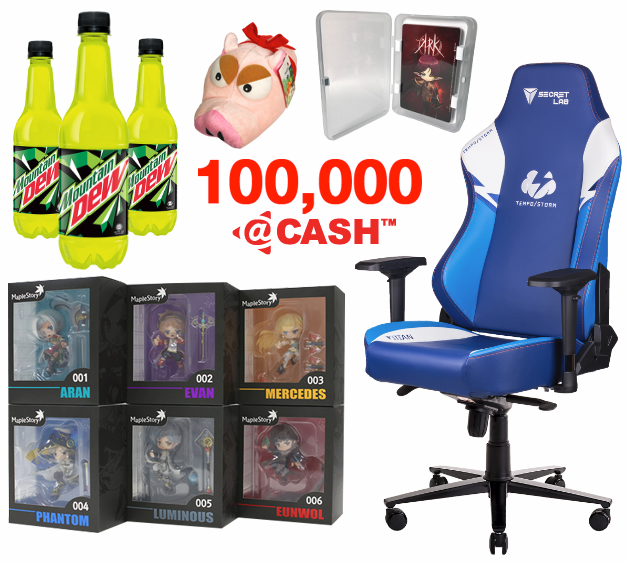 MDS Coin Shop
And with Maple Mania, we have a special coin shop! Visit
Pro-gamer Yeti
who uses a Secretlab chair and drinks Mountain Dew while playing MapleStorySEA (he claims to!)
Pro-gamer Yeti takes a special form of coins, the
MDS Coins
. These coins can be obtained from hunting Level Range Monsters*. It's that easy! Collect coins and purchase special event items, alongside special Monad content related items!
psst... Mountain Dew & Secretlab!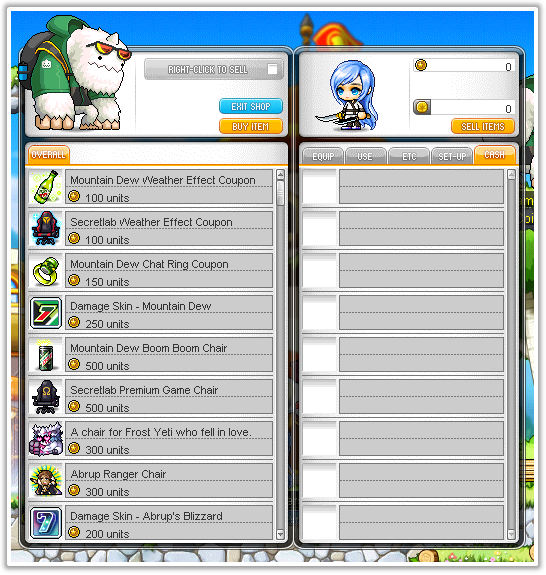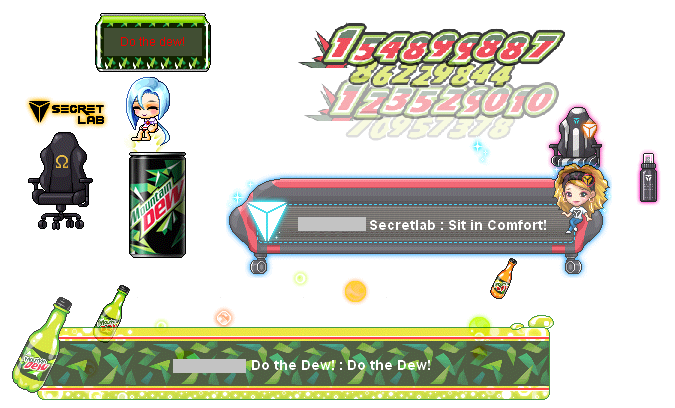 * Level Range Monsters refer to monsters between -20 and +20 of your character's level with no exceptions for monsters above a certain level.
Happy Mapling, and once again we wish everyone the best of luck and remember, fastest fingers first!
Terms and Conditions :
• This event is organized by Asiasoft Online Pte Ltd, Nexon Korea Corporation and participating partners.
• Partners' prizes are for illustrative purposes; actual prizes may differ in color or design.
• Employees (and immediate family) of the organizer and its respective divisions, affiliates, authorised dealers/distributors, agents; suppliers of the Prize(s); and any other company professionally connected with this event are not eligible to enter the event rankings.
• Winners must ensure that their particulars stated in their Asiasoft Passport is accurate to prevent errors or delay in prize collection. Asiasoft Online Pte Ltd and Nexon Korea Corporation will not be held responsible in cases whereby the participants or winners cannot be contacted via their registered email addressed tied to their Asiasoft Passport belonging to their Maple ID.
• Winners will have to bear incidental costs, if any, that may arise for the fulfillment of the prizes.
• Asiasoft Online Pte Ltd and Nexon Korea Corporation reserves the rights to make any changes to the above mentioned without any prior notice.
• Asiasoft Online Pte Ltd and Nexon Korea Corporation reserve the right to disqualify and take action against any player that violates our abuse policy.