Updates
05 Jan 2016
Patch Notes for RISE (v155)

---

TABLE OF CONTENTS

1. [Content Update] The Tower Under the Ocean
2. [Content Update] Maple Guide & Hunting Field System
3. [Content Update] Mu Lung Dojo
4. [Content Update] Party Quests
5. [Content Update] Star Planet: Return of the Legends
6. Other Game Related Changes

---
1. [Content Update] The Tower Under the Ocean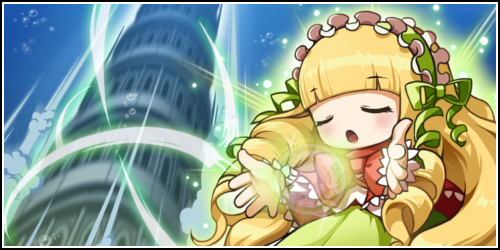 Content Updates
The level requirement for the prequest has been raised from 100 to 140. However, if you have already completed the prequest prior to this update, your character can still proceed on to attempt the Tower.


The default countdown timer for the Tower has been raised from 05:00 minutes to 10:00 minutes.


Hazy Stone time extensions have been decreased, however you are generally able to gain more play time from completing certain stages in the Tower.


Seed Medals of Honor are given depending on the number of floors finished per run. Each medal gives 100 Honor.


Alicia's Ring Boxes will no longer give certain consumables, and the chance to receive rare items have been increased.


Glinda's Shop now sells Broken Box Pieces, The Seed Question Ring Boxes and Spell Traces. When combining 10 Ring Pieces, you now have a chance to get highest-level rings.


The

SEED

Question Ring Box gives a ring with random potential options that expires in 3~7 days.
Tower Layout Changes
2nd Floor: Swapped with Floor 23rd in the tower arrangement.


3rd Floor: Monsters will drop more turtle eggs.


9th Floor: The number of level of platforms to clear has been reduced from 11 to 8.


14th Floor: You are now given 99 bullets and 3 minutes to terminate the monsers. Your remaining time will be deducted according to the number of bullets you consumed.


36th Floor: The password is now consists of 8 monsters instead of 12.


42nd Floor: Finley's summons has been delayed to a little later.


49th floor: You are given one chance to change the question given.


50th floor: Dorothy has received some changes: Her HP has been decreased by 20%, but now her flames deal more damage and she will summon meteorites at a more frequent rate.
Ranking System Introduction
Rankings are now available for the Tower Under the Ocean. The top 30 players will be rewarded with Emblems, granted with special Potential stats in them: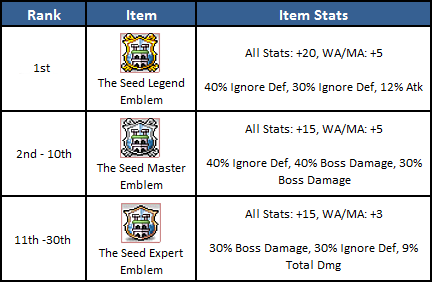 The rankings will reset at 0000hrs (
GMT
+8) every Mondays.
---
2. [Content Update] Maple Guide & Hunting Field System
Maple Guide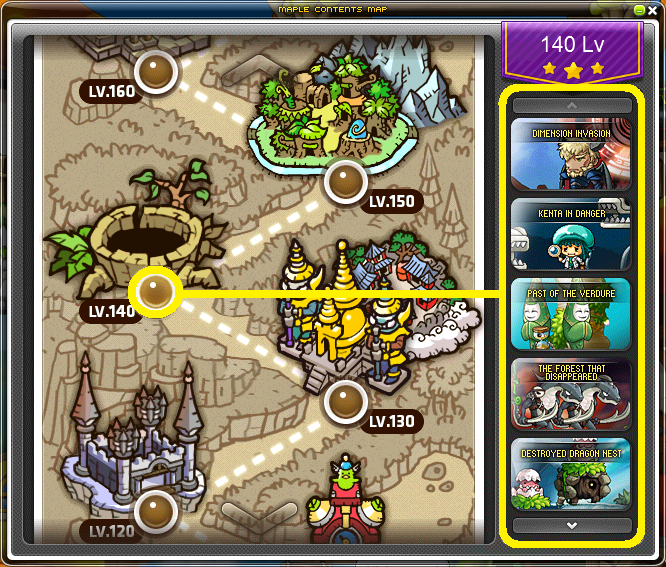 The renewed Maple Guide now available up to level 200 content! You may now select the content you want to go to, and teleport directly to most of the maps indicated.
Contents are segmented together in groups of 10 levels. For example, areas accessible for characters between level 120 to 129 such as theme dungeons and bosses, will all fall under 1 tab. Contents that have been explored can be completed and marked with a red stamp:
Normal Fields: Hunt a required number of monsters on given maps
Theme Dungeons: Complete all the quests
Bosses: Gain access and defeat the boss for the particular level range/difficulty
Burning Field System *new*
When some hunting fields are left alone for quite a while, they will turn into Burning Fields! Monster
EXP
will be boosted in proportion with the Burning Stage of a map.


Burning Stages can be reach up to a maximum of level 5 in a map, with each stage upgraded every 2 hours. When hunting inside a Burning Field, the Burning Stage bonus will be reduced after a while, or after hunting a certain number of monsters.
Sudden Missions *new*
During the course of hunting or idling in Maple World, Sudden Missions may be given to you while in towns or hunting areas!
Accepting these missions will net you with
EXP
rewards as well as other rewards like Spell Traces, Inventory Slot, Expansion Coupons, level appropriate equipment, cubes, mileage and even mesos! These missions may include hunting a certain number of monsters, achieving a specific amount of combos or multi-kills, activating runes, or even defeating Elite Monsters or Bosses.
There is a maximum limit of 3 Sudden Missions available daily, and missions may even appear while you're idling away, so watch out!
Rune System
Rune respawn times in general has been reduced.


An on-screen notification will be shown when a Rune spawns in the current map that you're in.


Rune buff durations have been increased from 2 to 3 minutes.


To obtain a rune buff, simply walk up to an available rune and use the

NPC

Chat key (default: N) to trigger a short key sequence and liberate it.
Runes have been updated, as well as new ones have been introduced into the game: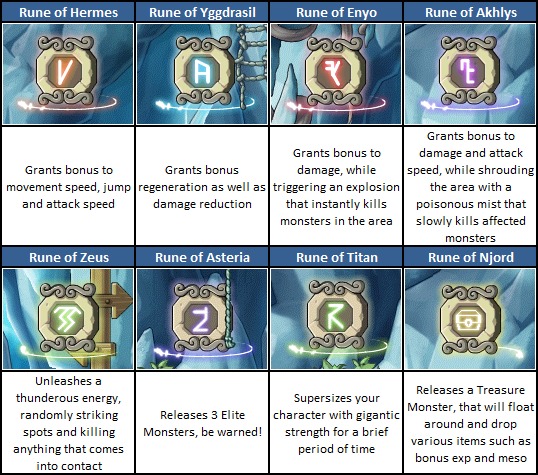 These runes doubles the
EXP
that you gain from killing monsters for a short period of time as well, and at times may also provide you with an added enhancement bonus depending on the rune triggered.
Elite Monster/Boss System
Rare Treasure Box items have been added.


Users who hit the Elite Boss at least once will receive a Rare Treasure Box, and users who deal the most damage may receive more as additional reward(s), up to a maximum of 3.


Rare Treasure Boxes can only be obtained if you are within 30 levels below and 40 levels above the Elite Boss.


Rare Treasure Boxes are no longer obtainable from the Bonus Stage.


20 9 Rare Treasure Boxes can be opened at most per day per account. (edit: information updated as of 11th Jan 2016)


'Draining' and 'Commander' Elite Bosses and Monsters have had effects added in their names to show their skills in advance.


'Draining' and 'Commander' Elite Boss skills have been combined to prevent redundancy.


'Reflecting' Elite Monsters have had an effect added that can be seen when the skill is activated immediately.


The number of skills an Elite Boss can have has been decreased from 3 to 2.
---
3. [Content Update] Mu Lung Dojo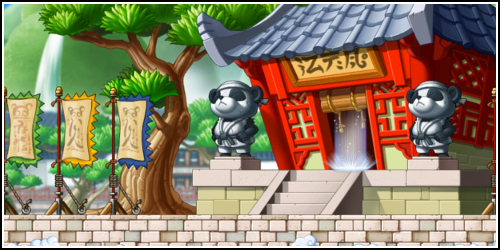 Ranking System Update
Mu Lung Dojo will now have job rankings. The top 9 players of your job will be shown. However, starting classes (who did not take the job advancement at level 30 onwards) will not be shown.
The 1st placing for overall rankings will receive the Hero's Gloves. The 1st placing for each job rankings will receive Mu Gong's Gloves, while the 2nd and 3rd placing of each job ranking will receive So Gong's Gloves. All of these gloves expire at 0000hrs every Monday. The Quest "Mu Gong's Gift" will be available in your normal quests, when you are eligible to any of the rewards.
Gameplay Update
Safe rooms in the Mu Lung Dojo's Ranking Mode have been removed. Instead, when you clear a stage in Mu Lung Dojo, the timer will pause for 10 seconds. It can resume naturally after or upon moving to the next floor. How will you fare this time round in the rankings?
Rankings will now reset every Sunday night, between 11 PM to 12 AM. New rankings submitted during this period of time will be unavailable.
---
4. [Content Update] Party Quests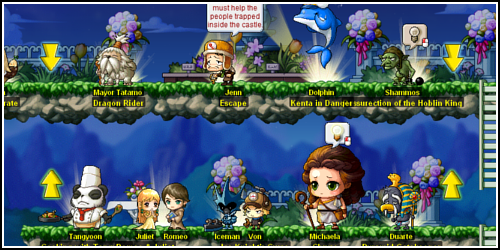 PQ System Changes
Party Quests' daily tries have been reduced from 10 to 5.


Increased

EXP

Gain for the following Party Quests:


Romeo and Juliet

Lord Pirate

Escape
Reward Items update

The requirements for the following Party Quest rewards have been adjusted:

Dimensional Crack

Receive the Cracked Glasses when completing the party quest 5 times
Tangyoon's Cooking Class

Chef's Outfit now costs only 2 Chef Certifications, the Chef's Hat now costs only 3 Chef Certifications
Romeo and Juliet

Romeo's Pendant now costs only 2 Zenumist Marbles, and Juliet's Pendant now costs only 2 Alcadno Marbles
Lord Pirate

Common Lord Pirate's Hat now costs only 30 hat pieces


Regular Lord Pirate's Hat now costs only 60 hat pieces


Greedy Lord Pirate's Hat now costs only 90 hat pieces
Escape

Each Von Leon's Belt now costs only 5 Guard's Keys
Kenta in Danger

Kenta's New Goggles now costs only 10 Pianus Scales


Pet Equipment Scrolls now cost only 5 Pianus Scales each
Resurrection of the Hoblin King

All Rex's Earrings now cost 5 Hoblin Warrior's Marks


Rex's Hyena now costs 60 Hoblin Warrior's Marks
Nett's Pyramid

All 3 Immortal Pharaoh items now cost 40 Nett's Emeralds each


Party quests are now started on their specific waiting maps, like before. Entrance paths to some party quests are added in regular hunting maps for convenience.
New Party Quest – Chryse PQ
The new party quest can be accessed through the Party Quest Map via the Dimensional Mirror. You must accept the quest "[Chryse] Please Find my Xerxes" to start the quest.


The party quest can be done by players within the levels 75 to 120, in a party of 1 to 4 players.


Can be done 5 times per day, 20 minutes per entry.


A Word of Caution: Your character's skills may prove ineffective for a majority of this party quest, pay attention to the environment and the available tools to clear each stage.


Defeat Xerxes and proceed to a bonus stage in which you have 30 seconds to collect as many Core Shards as you can.


The Core Shards can be used to exchange for a couple of eye accessories: Michael's New Glasses (80 shards) and Michaella's New Glasses (150 shards).
Revamped Party Quest – Resurrection of the Hoblin King
Prequests have been removed


Mob difficulty level increased


More obstacles like falling icicles have been added, together with the mob difficulty adjustment, for more interactive gameplay. BE careful though, if Shammos gets hit by falling icicles, he'll take a lot of damage, reducing your final bonus

EXP

rewards if he is not healed!


Now requires a minimum of 2 players
Revamped Party Quest – Kenta in Danger
Can be done with a minimum of 2 players.


Bonus

EXP

will be given when Kenta's health is maintained at a certain threshold.


New missions are added, which, when completed, will help reduce the time needed to escort Kenta.
---
5. [Content Update] Star Planet: Return of the Legends
Gameplay Updates

Added a single-player Practice Mode, to help familiarize yourself with the Return of the Legends avatars. This mode is accessible through

NPC

Kwaming in the Star Arena.


The minimap now specifies all three areas' recommended level.


Holodragon now spawns at a separate location on the map: the beast now spawns at a platform above the three hunting zones. Portals leading directly to Holodragon has been added to each team's base.


Holodragon's difficulty has been decreased. Take the big beast down faster than before, bring glory to your team, and more gold for yourself!
Two new avatars are now available for your use!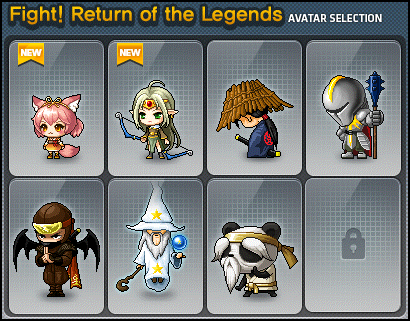 Athena Pierce: The Bowman Instructor of Henesys
Specializes in long-range attacks, worthy of master bowmen

Skills:
Piercing Arrow (Basic) – Pierces through 2 targets, the 2nd target receiving halved damage, chance to inflict a Mark, that increases all damage taken from Athena by 10%


Wind Spirit (Level 3) – Increases

ATT

and Movement Spd, reduces Damage Taken


Stabbing Shot (Level 5) – Implants flaming arrows into the ground causing damage to any enemy that steps on it, dashes backwards


Ice Arrow (Level 7) – unleashes 5 arrows fanning outwards, reducing movement speed on enemies that are hit


Crossfire (Level 8) – enters crosshair mode, unleashes a continuous volley of arrows at the crosshair while resisting abnormal statuses


Recovery – recovers a part of your HP, can be improved by purchasing skill passive
Moonbeam: The Anima Spirit User
Specializes in support and creating holograms to assist her in battle

Skills:
Clawing (Basic) – attacks up to 3 enemies in front


Round and Round (Level 3) – hits enemies with a mid range skill up to 3 enemies in front, triggers chance to drop a Hologram Liver


Fox Ridge (Level 5) – Teleports around and deals damage, up to 5 enemies


Fox Spirits: Type-2 (Level 7) – summons 3 guardian spirits that sacrifices itself to nullify damage and debuffs, each sacrifice will recover a small amount of HP


Spirit Frenzy: Ninetailed Magic (maxed at Level 8) – using the collected Hologram Livers, summons 3 fire fox spirits to spiral around and damage up to 3 enemies


Recovery – recovers a part of your HP, can be improved by purchasing skill passive
---
6. Other Game Related Changes
Soul Weapon
The ability to toggle untriggered/unsummoned Soul Weapon effects has been added.


An ON/OFF button has been added to the Soul Weapon UI.


When the button is ON, the effect will be visible to you and other users but if it is

OFF

, it will disappear.
Pink Bean Death Count System
Both modes of Pink Bean (Normal and Chaos) now have a death count of 5 deaths per person.

EXP

is not lost upon death.
Item Pickup UI



A new UI window appears at the top of the screen whenever you pick up new items that contain potential.
Added Level Up Effect


Whenever you level up, the huge star that appears and burst will now trigger an area wide explosion that kills normal monsters within the vicinity.
Startup Loading Screen


To accommodate the long load during your first game client startup, a loading screen is now available so that players can track the progress of the game startup.