Updates
26 Jul 2022
[Cash Shop Update 270722] For A Greater You
1)
Course Opening Day Set - Ends 3rd August
2)
Mysterious Mix Dye and Contact Lens - Ends 3rd August
3)
New Mount and Damage Skin Sale - Ends 10th August
4)
Removals
---
Course Opening Day Set
Yeah, Of course!
Note :
The overall cash equipment from the Male and Female packages are gender-locked.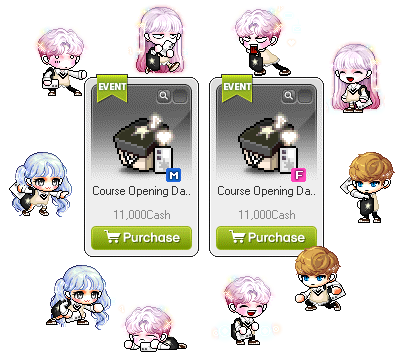 ---
Mysterious Mix Dye and Contact Lens
A bit of the unique mix
Note :
Mix colors of both coupons obtained are Random.
Reminder! Please store the Hairstyle Color in the Mannequin if you wish to keep the color. Any unsaved Hairstyle Color will be gone forever.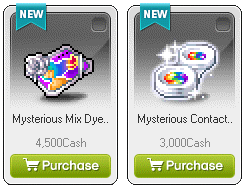 ---
New Mount and Damage Skin Sale
More mount and damage skin for your collection!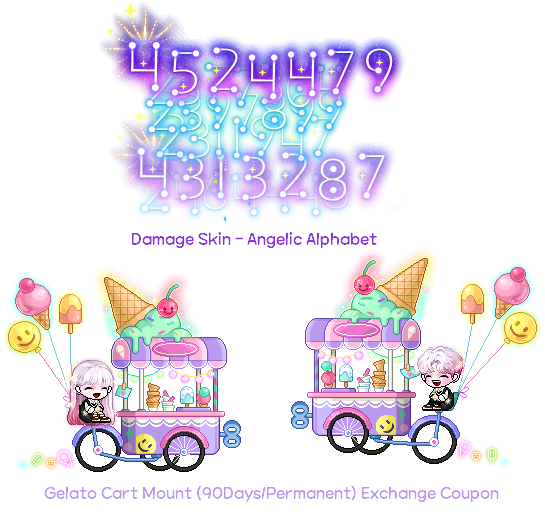 ---

Removals
From the Cash Shop Update of 29th June 2022.
  ➢ Maple Royal Style
  ➢ Maple Royal Style (5)
  ➢ Maple Royal Style (25)
  ➢ Masterpiece Machine
  ➢ Premium Masterpiece Machine

From the Cash Shop Update of 13th July 2022.
  ➢ Avatar Scissors of Karma (3) Bundle
  ➢ Scissors of Karma (3) Bundle
  ➢ Platinum Scissors of Karma (3) Bundle
  ➢ Vicious' Hammer (3) Bundle