Updates
19 Nov 2019
[Cash Shop Update 201119] Snowy Rabbits and Chairs, Made with Love
Dear Maplers,
Please take note that all items in this update will only be available until their removal on
4th December 2019
, unless otherwise specified below.
1)
[New] Seasonal Decorative Packages
2)
[Update] Chair Assembly Kit
3)
[Update] Damage Skin Booster Pack w/ Special Bundle!
4)
Removal
---
Seasonal Decorative Packages
Grab the new Seasonal Decoratives from the Cash Shop today!
The
Soft Snow Rabbit Package
includes the
Soft Snow Rabbit Hat
,
Soft Snow Rabbit Overall
, and
Soft Snow Rabbit Weapon
for the respective genders.
Play Glory in style with the
Glorious Black Package
! The package includes
Black God Hat
,
Black Hanbok
, and Black
Boots
.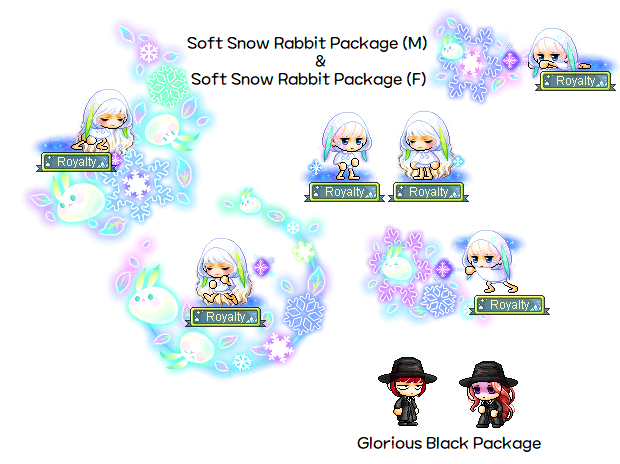 ---
Chair Assembly Kit Update
Grab your screwdrivers and wooden planks, we've a chair to build!
The
Chair Assembly Kit
has been updated. Build one of the following chairs listed below now!

*Note: The chair, Lavender Glass City, is untradable.
---
Damage Skin Booster Pack Update
-
Available until 11 December 2019
Dress up your numbers in style! Did you know? How one's damage appears is really telling of one's personality...
The
Damage Skin Booster Pack
has been updated.
Eyeing all of them? We have you covered! Purchase the
5x Damage Skin Booster Pack
Bundle and get a
bonus
Damage Skin Extraction Exchange Coupon!
*Note: The Damage Skin Extraction Coupon is untradable, with no expiry.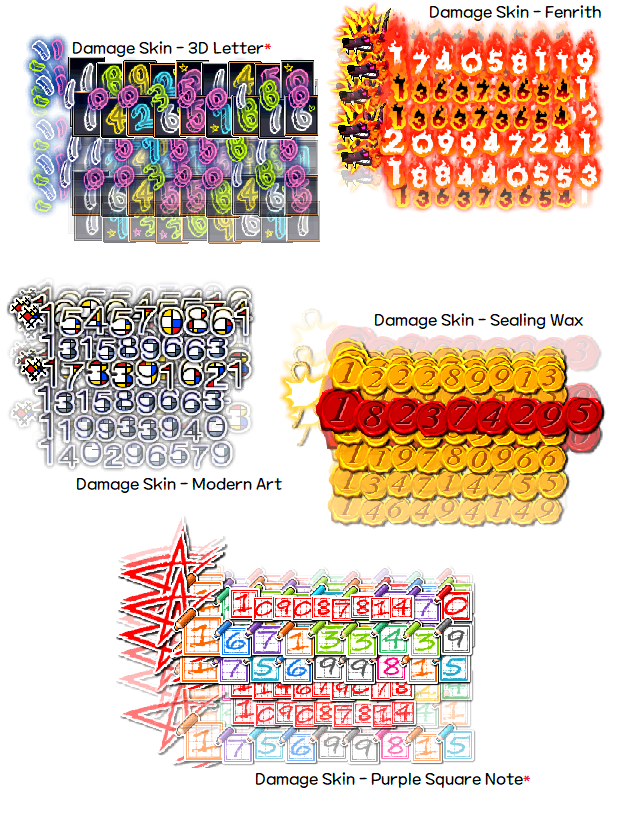 *Note: Marked Damage Skins are untradable. However, all Damage Skins extracted with the use of a Damage Skin Extraction Coupon can be traded.
---
Removal
• Special 1 Week Bundle Sales of Maple Royal Style (5) and (25) Bundles from
Cash Shop Update of 131119
As a general rule of thumb, the information contained in this update news is correct at the time of publishing and may be subject to changes without prior notice depending on the final testing conducted during the server maintenance.
- MapleSEA Administrator