Notices
26 May 2021
[Completed] Urgent Server Check on 26th May 2021
[Update as of 26th May 2021, 2005hrs (GMT +8)]
All game services have resumed as of 1958hrs (GMT +8).
• The issue where game servers were randomly disconnecting has been addressed.
• We would like to give 2X EXP Coupons as a token of apology for the unstable service since after the server patch. Eligible users will be able to claim these through the Reward Box system upon login after today's Urgent Maintenance.
Eligibility criteria:
All players who have logged into the game
after the Urgent Server Maintenance
, until 2359hrs (GMT+8) 26th May 2021.
Apology token:
2X EXP Coupon (30 min) x2 - Untradeable, expires on 2359hrs (GMT+8) 27th May 2021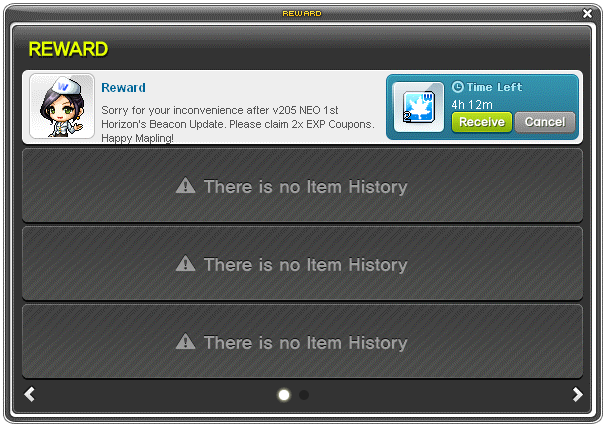 ---
Dear Maplers,
Please be informed that there will be an
Urgent Server Check on 26th May 2021
from
1855hrs (GMT +8) until further notice.
This is address the state of disconnection of the game servers that has been rampantly and randomly occurring since after today's server patch was concluded.
Game services for all worlds will not be available during the above mentioned timing. We seek your patience and kind understanding while we work to resolve the issue.
Thank you.
-MapleSEA Administrator