Notices
19 Nov 2021
[Completed] Urgent Server Check on 19th November 2021
[Update as of 20th November 2021, 0131hrs (GMT +8)]
The Server Check has been concluded and all channels are fully accessible as of 0130hrs (GMT+8).
Maplers will be appropriately compensated for the sudden downtime with all cash items being extended by 7 hours. You may also claim compensation items via the Reward Box, until 21st November 2021, 2359hrs. There will not be any reimbursements for items that have not been claimed within this period.
Your character must be Level 33 and above to claim these items, ONCE per MapleID.
Compensation items
:
Bebe's Purple Box x1
Typhoon Growth Potion x1
Selective Arcane Symbol Exchange Coupon x50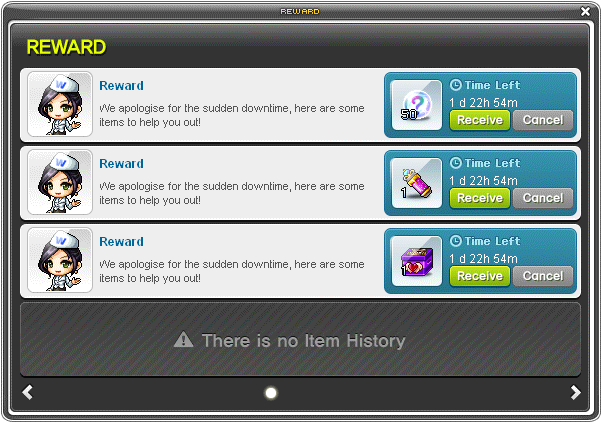 Do note that penalties towards all users who took part or benefited from the exploit, whether directly or indirectly, will be reviewed at a later date and enforced separately.
We thank you for understanding and bearing with us during the course of the urgent maintenance. Please accept our apologies for any inconveniences that may have been caused.
- MapleSEA Administrator
---
Dear Maplers,
Please be informed that there will be an
Urgent Server Check
starting from
2015hrs (GMT +8)
to investigate on a reported exploit.
Game services will not be available until further notice.
We apologize for the short notice and any inconvenience caused.
-MapleSEA Administrator