Notices
30 Mar 2023
[Completed] Server Check on 31st March 2023
[Update as of 31st March 2023, 1159hrs (GMT +8)]
The Server Check has been concluded and all channels are fully accessible as of 1159hrs (GMT+8).
Known Issues
You may view the list of known issues here.

Fixed Issues

An error where certain users have missing professions' abilities has been fixed.

Phantom's previously active skills within Loadout has been restored. Remaining skills can be obtained again with Skill Swipe. We apologise for the inconvenience caused.

A token of apology has been provided for affected users in the above two incidents.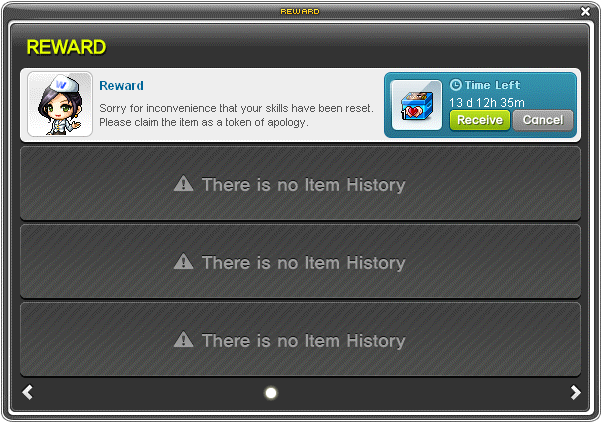 Bebe's Blue Box x1
Eligible users can receive the rewards via the Reward Box icon

, located on the left side of the screen. Users are advised to claim the rewards before
13th April 2023, 2359hrs (GMT +8)
.
Once again, we apologise for the inconvenience caused and sincerely thank all Maplers for providing the team with relevant and timely information on any issues within the game.
---
Dear Maplers,
Please be informed that there will be an additional
Server Check on 31st March 2023
, from
0900hrs to 1300hrs (GMT +8)
.
Game services for all worlds will not be available during the stipulated timing. Kindly log out before this period of time to avoid disruptions to your gameplay.
- MapleSEA Administrator