Notices
26 Sep 2017
[Completed] Server Check and Cash Shop Update on 27th September 2017
[Update as of 27th September 2017, 1518hrs (GMT +8)]
All game services have resumed as of 1518hrs. Please take note of the following:
• There is a Minor Patch today, which will update your game clients to v170.2.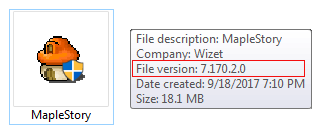 • You may download the .exe file from
here
. • Upon downloading the .exe file, paste and overwrite it into your game client folder • Alternatively, you may use the Autopatch method to update the exe file to v170.2
Meanwhile, here are other points to take note of:
• Prices of Pet Skills in the Cash Shop have been permanently reduced, as of the v170 update. • Mileage Shop purchase counts have been refreshed as well. If you have not checked it out yet, there are new pets to be obtained! • We've done some tweaking to help improve with the random runtime error crashes that players have been experiencing. Please do continue to provide us with your feedback if you are still consistently facing this issue • Spell Trace NPC Nadia is now available in Henesys and Leafre (NPC positioning in Leafre may have been shifted) • Twin Coupons' effect have been restored as accordingly, players who have purchased the bugged versions will be reimbursed at a later date, stay tuned to our webnews • The Beyond Coin Shop NPC duration has been extended, please complete all your Coin exchanges before 1st October 2017, 0000hrs (GMT +8)
- MapleSEA Administrator
---
Dear Maplers,
Please be informed that there will be a
Server Check and Cash Shop Update on 27th September 2017
, from
0900hrs to 1500hrs (GMT +8).
Game services for all worlds will not be available during the stipulated timing. Kindly log out before this period of time to avoid any unforeseen complications.
Meanwhile, you may wish to check on the following updates: •
Cash Shop Update
- MapleSEA Administrator