Notices
23 Apr 2019
[Completed] Server Check and Cash Shop Update on 24th April 2019
[Update as of 24th April 2019, 1310hrs (GMT +8)]
All game services have resumed as of 1310hrs (GMT +8).
We would like to extend a token of apology to all Maplers following the service disruptions happening over the past 2 days.
Everyone who logs in into the game between 24th April 2019, 1300hrs to 28th April 2019, 2359hrs will receive one Bebe's Navy Box
Players who have been logged in to the game between 22nd April 2019, 0000hrs to 24th April, 0900hrs will receive one Bebe's Purple Box and one Typhoon Growth Potion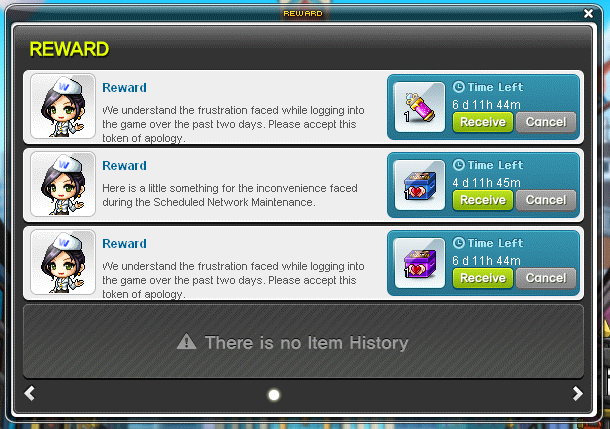 Please note that rewards can be obtained
once per eligible Maple ID
.
Please take note of the following as well
An error with the 14th Street Point distribution for Battle Reversi from Tempest Arcade has been fixed.
-MapleSEA Administrator
---
Dear Maplers,
Please be informed that there will be a
Server Check and Cash Shop Update on 24th April 2019
, from
0900hrs to 1300hrs (GMT +8).
Game services for all worlds will not be available during the stipulated timing. Kindly log out before this period of time to avoid any unforeseen complications.
Meanwhile, you may wish to check out the following updates:
•
Cash Shop Update Notes
- MapleSEA Administrator