Notices
20 Oct 2020
[Completed] Minor Patch and Cash Shop Update on 21st October 2020
[Update as of 21st October 2020, 1240hrs (GMT +8)]
The Server Check has been concluded and all channels are fully accessible as of 1239hrs (GMT+8).
A Minor Patch has been included today which will update your game clients to v198.3.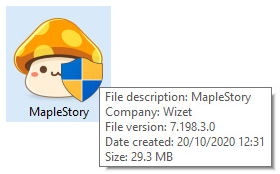 You may obtain the Minor Patch file
here
or by Auto-patching. Upon downloading the .exe file, paste and overwrite it into your existing MapleStorySEA game client folder.
Known Issues
1. An issue where the Poisonous Ripe Wolfroot & Poisonous Enhanced Security System in Monster Collection could not be completed has been fixed.
2. The issue where the game client will be terminated upon entering the Cash Shop or Auction House has been fixed with today's minor patch.
---
Dear Maplers,
Please be informed that there will be a
Server Check on 21st October 2020
from
0900hrs to 1230hrs (GMT +8).
There will also be a Minor Patch to address a number of issues that were reported in by players.
Game services for all worlds will not be available during the stipulated timing. Kindly log out before this period of time to avoid disruptions to your gameplay.
The Cash Shop Update notes will be available for viewing at a later time :
•
21st October 2020 Cash Shop Update Notes
- MapleSEA Administrator