Notices
18 Jul 2023
[Completed] Minor Patch, Server Check and Cash Shop Update on 19th July 2023
[Update as of 19th July 2023, 1145hrs (GMT +8)]
The Minor Patch and Cash Shop Update has been concluded and all channels are fully accessible as of 1145hrs (GMT+8)
A Minor Patch has been included today which will update your game clients to v224.2.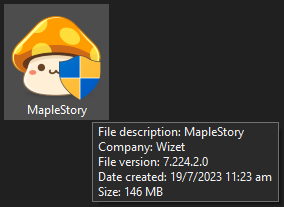 You may obtain the Minor Patch file
here
.
Upon downloading the .exe file, paste and overwrite it into your existing MapleStorySEA game client folder.
Updates & Fixes
An issue where the client sometimes randomly disconnects when participating in an Expedition in Misty Island's Legacy has been fixed.

Maplers who are facing issues with claiming their Secret Safe Week rewards are advised to send in an iBox ticket detailing their issue should they still be unable to claim their reward as of 19th July 2023.

We are aware of an issue where the Conditions for receiving Chapter Rewards when checked with NPC Terry in-game states 15 Daily Missions in error instead of the actual requirement of 10 Daily Missions. This issue will be fixed at a later time.



A new journey begins... Check out the 6th Star event as we gear up for the exciting ride ahead!


Happy Mapling!

---


Dear Maplers,

Please be informed that there will be a Minor Patch, Server Check and Cash Shop Update on 19th July 2023, from 0900hrs to 1300hrs (GMT +8).

Additionally, MSPassport services will be unavailable during this period.

Game services for all worlds will not be available during the stipulated timing. Kindly log out before this period of time to avoid disruptions to your gameplay.

- MapleSEA Administrator