Notices
17 Nov 2020
[Completed] Minor Patch and Cash Shop Update on 18th November 2020
[Update as of 18th November 2020, 1313hrs (GMT +8)]
The Server Check has been concluded and all channels are fully accessible as of 1311hrs (GMT+8).
A Minor Patch has been included today which will update your game clients to v199.2.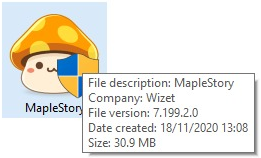 You may obtain the Minor Patch file
here
or by Auto-patching. Upon downloading the .exe file, paste and overwrite it into your existing MapleStorySEA game client folder.
Known Issues
• An issue where the Light of Dawn Weapon would not be visible has been fixed.
• The issue whereby viewing the Mileage transaction log in the Cash Shop would not allow players to interact with any buttons within the Cash Shop has been fixed.
• The issue where Zen characters did not receive replacement V Cores via the Zen Free Job Transfer Event has been fixed. Players who have previously completed the job transfer will now have their replacement V Cores credited directly into their V Matrix. The replacements will be credited based on what V Cores the player had at the time of the job transfer. Enhancement cores will be replaced via Core Gemstones. Player had job transferred prior to today's server check will receive their Core Gemstones via the reward box located on the left side of their screen. Please do retrieve them before the 2nd of December 2020.
---
Dear Maplers,
Please be informed that there will be a
Server Check on 18th November 2020
from
0900hrs to 1330hrs (GMT +8).
There will also be a Minor Patch to address a number of issues that were reported in by players.
Game services for all worlds will not be available during the stipulated timing. Kindly log out before this period of time to avoid disruptions to your gameplay.
The Cash Shop Update notes will be available for viewing at a later time :
•
18th November 2020 Cash Shop Update Notes
- MapleSEA Administrator