Notices
09 Oct 2018
[Completed] Server Check and Cash Shop Update on 10th October 2018
[Update as of 10th October 2018, 1406hrs (GMT +8)]
All game services have resumed as of 1406hrs.
• A Minor Patch has been included today after the earlier extension, which will update your game clients to v179.2.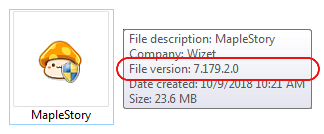 • The Autopatcher will update your game clients from v179.1 to v179.2 • Alternatively, you may obtain the Minor Patch.exe file from our download page,
here
. • Upon downloading the .exe file, paste and overwrite it into your game client folder
Meanwhile, please take note of the following updates: » Fixed a text issue within the Buddy List UI » The weapon category for Katanas and Fans should now only be equippable by Hayato and Kanna classes respectively » An issue with Wild Hunters and their Jaguar summons after using the Jaguar Storm skill has been resolved » An issue with HP & MP values not displaying correctly upon login to the game has been resolved » Adventurer Package purchases should no longer be restricted to once per Asiasoft Passport, it is now once per MapleID
---
Dear Maplers,
Please be informed that there will be a
Cash Shop Update on 10th October 2018
, from
0900hrs to 1500hrs (GMT +8).
Game services for all worlds will not be available during the stipulated timing. Kindly log out before this period of time to avoid any unforeseen complications.
Meanwhile, please take note of the following updates:
•
Cash Shop Update
- MapleSEA Administrator