Notices
06 Mar 2018
[Completed] Server Check and Cash Shop Update on 7th March 2018
[Update as of 7th March 2018, 1318hrs (GMT +8)]
All game services have resumed as of 1318hrs. Please take note of the following:
• There is a Minor Patch today, which will update your game clients to v174.2.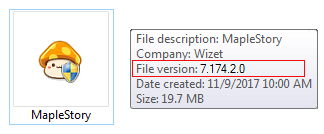 • You may obtain the Minor Patch .exe file from our download page,
here
. • Upon downloading the .exe file, paste and overwrite it into your game client folder • Alternatively, players with v174.1 client may use the autopatcher to update their clients when they run the game.
Meanwhile, the following issues have been addressed in this Server Check: • An issue where the incorrect reward when participating in Hekaton was given has been rectified. • An issue where accessing the Cash Shop and Auction House would cause the client to disconnect has been rectified.
The following contents & events are accessible after today's maintenance: • Fox Valley • Mega Burning Project • Lady Blair's Dream Express
---
Dear Maplers,
Please be informed that there will be a
Server Check and Cash Shop Update on 7th March 2018
, from
0900hrs to 1330hrs (GMT +8).
Game services for all worlds will not be available during the stipulated timing. Kindly log out before this period of time to avoid any unforeseen complications.
Meanwhile, please take note of the following:
•
Cash Shop Update
- MapleSEA Administrator