Notices
01 Oct 2021
[Updated] Minor Patch on 30th September 2021
[Update as of 1st October 2021, 1900hrs (GMT +8)]
Due to another Minor Patch being scheduled on 2nd October 2021, the compensation plan published yesterday is being reviewed once more. Final details will be provided after the Minor Patch on 2nd October has been completed.
---
[Update as of 30th September 2021, 1532hrs (GMT +8)]
The Server Check has been concluded and all channels are fully accessible as of 1530hrs (GMT+8).
A Minor Patch has been included today which will update your game clients to v208.2.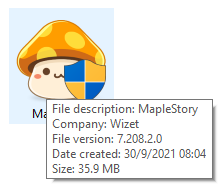 You may obtain the Minor Patch file
here
. Upon downloading the .exe file, paste and overwrite it into your existing MapleStorySEA game client folder.
Reported issues that were addressed during today's extended Minor Patch are as follows:
Fixed the issue with Kanna's Character Stat UI window.
Fixed the error with Kanna's Tengu Strike animation.
Fixed the error where 64-bit memory related error message appears when using the Option window.
Fixed the issue where Battleroid's Safety Charm buff is not applied to nullify the EXP/Drop Rate penalty.
Fixed the issue where Kanna's Spirit Pentacle does not properly stack 5 times.
Fixed the issue where in Will Boss (Phase 3), your character will be teleported out from the map despite having remaining death counts.
Fixed the issue where buffs are not properly applied for the following rings: - Lightning God Ring (Lightning God's Blessing) - Devil's Contract - White Heaven Rings
Fixed an intermittently occurring issue with Evan's Zodiac Ray skill trigger and usage.
Fixed the issue where entering Flame Wolf portals in YetixPink Bean World, it will teleport you to the Evolving System instead.
Fixed a text-related error on "Yeti x Pink Bean World is Open!" quest information window.
Fixed the issue on Golden Carriage where additional Golden Passes can be used beyond the maximum number of days.

Additional Note regarding Golden Carriage:

As of 30th September 2021, the maximum possible stamp is 65. When completing your attendance check, the stamp will be adjusted accordingly should you exceed 65 stamps on 30th September 2021 or 66 stamps on 1st October 2021.
The No. of Available Golden Pass display error where an incorrect amount is displayed will be fixed automatically on 1st October 2021.
We would like to address the issue of Maple Points used for unintentional extra Golden Passes consumption that occurred between 29th September 2021 (after V208 Patch) to 30th September 2021, 2359hrs (GMT+8), via a separate compensation plan to be carried out during next week's scheduled maintenance.
Last but not least, to show our appreciation for your patience during this period of inconvenience, all Cash Items in your possession have had their expiry date extended for a further 12 hours.
, and you can also receive a Green Bebe's Box (please note that all items within have their respective expiry duration) from the Reward Box system in-game, claimable from 2nd October 2021, 0001hrs (GMT+8) until 3rd October 2021, 2359hrs (GMT+8).
---
Dear Maplers,
Please be informed that there will be a
Minor Patch on 30th September 2021
from
1000hrs to 1200hrs (GMT +8)
to address a number of issues that were reported in by players following today's content patch update.
Game services for all worlds will not be available during the stipulated timing. Kindly log out before this period of time to avoid disruptions to your gameplay.
Reported issues that we will attempt to fix:-
Error where Battleroid (M/F) does not cancel EXP Penalty
Misaligned Character Stats UI Display for Kanna
Faulty skill animation for Kanna's Tengu Strike
64-bit error message being randomly displayed on Options
- MapleSEA Administrator