Notices
28 Mar 2023
[Completed] Minor Patch and Cash Shop Update on 29th March 2023
[Update as of 29th March 2023, 1220hrs (GMT +8)]
The Minor Patch and Cash Shop Update has been concluded and all channels are fully accessible as of 1220hrs (GMT+8)
A Minor Patch has been included today which will update your game clients to v221.3.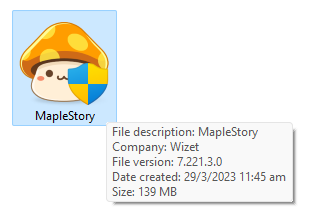 You may obtain the Minor Patch file
here
.
Upon downloading the .exe file, paste and overwrite it into your existing MapleStorySEA game client folder.
Known Issues
We've noted an issue where Angelic Busters could not utilize the function of Mannequins' saved hairstyles while in Dress-up mode. This issue will be fixed in a later patch.

Fixed Issues

An error where unlocked Dimension Library episodes would not appear even when they have been completed has been fixed. Affected Maplers will be able to view the stories after refreshing their Maple Achievements.

An error where [My Home] Parent's Gifts quest cannot be proceeded has been fixed.

An error where Zero's Change Potential and Add Bonus Stats button were not working in the Weapon UI has been fixed.

An error where the keyboard configuration settings would randomly reset has been fixed.

The loading speed of 5th Job Advancement tab on Characters' Skill UI has been improved.

Happy Mapling!

---


Dear Maplers,

Please be informed that there will be a Minor Patch and Cash Shop Update on 29th March 2023, from 0900hrs to 1300hrs (GMT +8)

Game services for all worlds will not be available during the stipulated timing. Kindly log out before this period of time to avoid disruptions to your gameplay.

Additionally, MapleStorySEA Passport website will be down during this period for maintenance.

During this time, the following services will not be available:
Passport Login
Passport Account and Maple ID account creation
Purchase, Top-up and conversion of @Cash
Password retrieval, reset and updates
Thank you.
- MapleSEA Administrator