Notices
27 Sep 2022
[Completed] Minor Patch and Cash Shop Update on 28th September 2022
[Update as of 28th September 2022, 1238hrs (GMT +8)]
The Server Check has been concluded and all channels have been fully accessible as of 1238hrs (GMT+8).
A Minor Patch has been included today which will update your game clients to v217.2.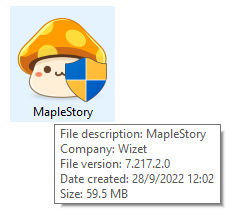 You may obtain the Minor Patch file
here
.
Upon downloading the .exe file, paste and overwrite it into your existing MapleStorySEA game client folder.
Fixed Issue:
An error where the Fairy Bros' Golden Carriage timer did not start as intended has been fixed.

Happy Mapling!

---

Dear Maplers,
Please be informed that there will be a Minor Patch and Cash Shop Update on 28th September 2022 from 0900hrs to 1300hrs (GMT +8).
Game services for all worlds will not be available during the stipulated timing. Kindly log out before this period of time to avoid disruptions to your gameplay.

- MapleSEA Administrator