Notices
08 Aug 2023
[Completed] Minor Patch and Cash Shop Update on 9th August 2023
[Update as of 9th August 2023, 1357hrs (GMT +8)]
The Minor Patch and Cash Shop Update has been concluded and all channels are fully accessible as of 1357hrs (GMT+8)
A Minor Patch has been included today which will update your game clients to v224.3.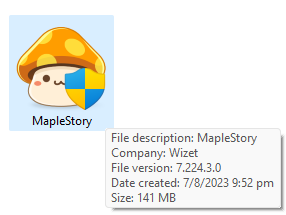 You may obtain the Minor Patch file
here
.
Upon downloading the .exe file, paste and overwrite it into your existing MapleStorySEA game client folder.
Updates & Fixes
An intermittent issue where double jump could not be used in Misty Island's Treasure: Maple Expedition event in certain situations has been fixed.

An error where the Ancient Tablet Replica Totem All Stat% functionality did not work as intended has been fixed.

An error where Saint Label Ring (ANI) had an awkward display output has been fixed.

An error where certain users Monster Life profile images cannot be set has been fixed.

Happy Mapling and Happy 58th Birthday Singapore~

---


[Update as of 9th August 2023, 1304hrs (GMT +8)]

The Minor Patch and Cash Shop Update has been extended until 1400hrs as we have faced several issues during our checks. We seek your kind patience and understanding and we would like to sincerely apologize for any inconvenience caused.


---


Dear Maplers,

Please be informed that there will be a Minor Patch and Cash Shop Update on 9th August 2023, from 0900hrs to 1300hrs (GMT +8)

Game services for all worlds will not be available during the stipulated timing. Kindly log out before this period of time to avoid disruptions to your gameplay.

Thank you.

- MapleSEA Administrator