Notices
30 Nov 2021
[Completed] Minor Patch and Cash Shop Update on 1st December 2021
[Update as of 1st December 2021, 1345hrs (GMT +8)]
The Server Check has been concluded and all channels are fully accessible as of 1334hrs (GMT+8).
A Minor Patch has been included today which will update your game clients to v209.2.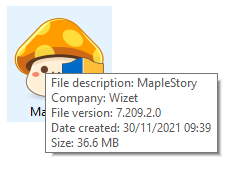 You may obtain the Minor Patch file
here
. Upon downloading the .exe file, paste and overwrite it into your existing MapleStorySEA game client folder.
Reported issues that were addressed and fixed during today's Minor Patch are as follows: • Fixed an issue where Return Scroll - Nearest Town cannot be activated on Hotkeys. • Fixed an issue where Damage Skin - Default (Unit) preview display is incorrect. • There are some date amendments with regards to Maple LIVE
Event. * For more information, please click here. *Black Beans that were claimed before today's Minor Patch will not be removed.
New events opening today: • Lara leveling challenge. More information will be posted in a separate events news.


---

Dear Maplers,
Please be informed that there will be a Server Check on 1st December 2021 from 0900hrs to 1330hrs (GMT +8).
There will also be a Minor Patch to address a number of reported in-game issues.
Game services for all worlds will not be available during the stipulated timing. Kindly log out before this period of time to avoid disruptions to your gameplay.


- MapleSEA Administrator