Notices
28 Sep 2021
[Completed] Game Patch and Cash Shop Update on 29th September 2021
[Update as of 29th September 2021, 1732hrs (GMT +8)]
All game services have resumed as of 1730hrs (GMT +8).
Here comes your golden ticket to patch v208! In celebratory orders, a special Thank You Box supply will be available for all Maplers to redeem from today until 3rd October 2021, 2359hrs (GMT+8).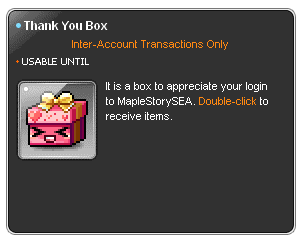 Thank You Box
contains :   ➢ 2x EXP Coupon x4   ➢ 2x Drop Coupon x2   ➢ Special Medal of Honor x7   ➢ Safety Charm x7   ➢ Selectable Arcane Symbol Exchange Coupon x3   ➢ Ring of Clan (1 Day) x1
All items above has a 7 days duration, with the exception of Ring of Clan.
Simply download or patch up your client to v208, login, and play to enjoy these rewards!
Note
: In light of the large patchfile size, we recommend players download the respective manual patchfiles for a faster patching process. However, please bear in mind that as there are many users like yourself trying to download the files, you may experience some congestion in the downloading process. We seek your kind patience and understanding.
---
Dear Maplers,
Please be informed that there will be a
Game Patch and Cash Shop Update on 29th September 2021
, from
0500hrs to 1500hrs (GMT +8).
Game services for all worlds will not be available during the stipulated timing. Kindly log out from the game client before the server patch commences to avoid any disruptions to your gameplay.
Information pertaining to the patch update will be published at a much later time.
- MapleSEA Administrator