Notices
15 Nov 2022
[Completed] Game Patch and Cash Shop Update on 16th November 2022
[Update as of 16th November 2022, 1540hrs (GMT +8)]
MapleStorySEA is now available on PlayPark Downloader.
Happy Mapling!
---
[Update as of 16th November 2022, 1503hrs (GMT +8)]
The Game Patch and Cash Shop Update has been concluded and all game channels are accessible as of 1503hrs.
Known Issues
:
We are aware of an issue with the Burning Special Face Coupon description incorrectly mentioning a random face changed upon use. Please note that the Burning Special Face Coupon from the package is Selectable. This issue will be fixed next maintenance. We apologize for the inconvenience caused.
Please note that MapleStorySEA will not be available in PlayPark Downloader for the time being. Should you need to download the Full Client or Manual Patches, please click here to refer to the respective download links.

Other Updates:

A gift from Mr Ignition has arrived! A special Thank You Box awaits all Maplers who login from today until 20th November 2022, 2359hrs (GMT +8).
P.S: Do check out his Fireworks Festival here!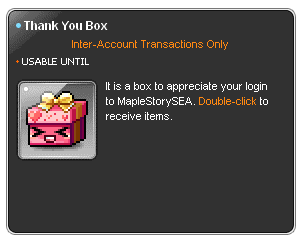 ---

Dear Maplers,

Please be informed that there will be a Game Patch and Cash Shop Update on 16th November 2022, from 0400hrs to 1600hrs (GMT +8).

Game services for all worlds will not be available during the stipulated timing. Kindly log out from the game client before the server patch commences to avoid any disruptions to your gameplay.

- MapleSEA Administrator