Notices
12 Apr 2022
[Completed] Game Patch and Cash Shop Update on 13th April 2022
[Update as of 13th April 2022, 1502hrs (GMT +8)]
The Server Patch Update has been concluded and all game channels have been accessible as of 1502hrs.
Due to the large size of the update, players are strongly advised to download the update via manual patcher.
Other Updates
:
A gift has arrived from Blooming Forest! To celebrate the occasion, a special Thank You Box will be available for all Maplers to redeem from today until 17th April 2022, 2359hrs (GMT+8).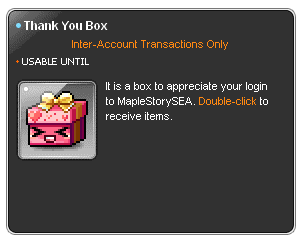 ---
Dear Maplers,
Please be informed that there will be a
Game Patch and Cash Shop Update on 13th April 2022
, from
0500hrs to 1500hrs (GMT +8).
Game services for all worlds will not be available during the stipulated timing.
Kindly log out from the game client before the server patch commences to avoid any disruptions to your gameplay.
- MapleSEA Administrator