Notices
02 Aug 2022
[Completed] MapleStorySEA Passport Maintenance, Game Patch and Cash Shop Update on 3rd August 2022
[Update as of 3rd August, 1431hrs (GMT +8)]
The Game Patch and Cash Shop Update has been concluded and all game channels are accessible as of 1431hrs.
Reward Crediting
:
In-game rewards for Beat the Heat with Ice Cream! event has been credited.
Note: Please claim all rewards by 16th August 2022, 2359hrs (GMT +8) from the Reward Box icon

located on the left side of the screen.

Other Updates:


We have also updated the Night Troupe in Rien Update Notes (v216) to include additional information regarding extracting of Equipment's Essence following several player feedback. Please refer to the updated Notes.

A gift from the Night Troupe has arrived! A special Thank You Box awaits all Maplers who login from today until 7th August 2022, 2359hrs (GMT +8).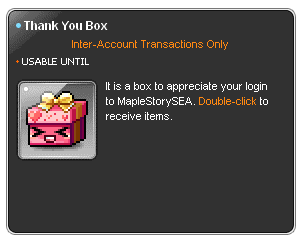 Happy Mapling!
---

Dear Maplers,

Please be informed that there will be a MapleStorySEA Passport Website Maintenance, Game Patch and Cash Shop Update on 3rd August 2022, from 0400hrs to 1500hrs (GMT +8).

MapleStorySEA Passport website and game services for all worlds will not be available during the stipulated timing. Kindly log out from the game client before the server patch commences to avoid any disruptions to your gameplay.

During this period, the following services will not be available:
MapleStorySEA Game Services
Passport Login
Passport Account and Maple ID account creation
Purchase, Top-up and conversion of @Cash
Password retrieval, reset and updates
- MapleSEA Administrator