News
28 Jul 2022
Play MapleSEA (PC) for MapleStoryM Rewards!
2 birds 1 stone, how bout dat?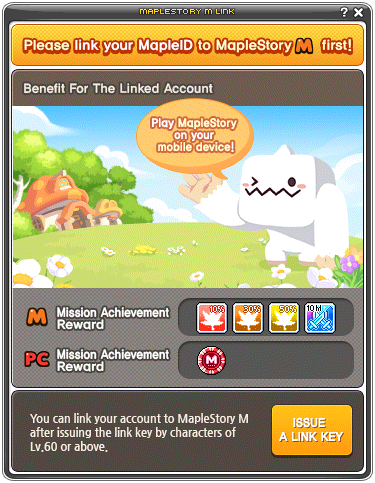 Playing both MapleStoryM and MapleSEA and receiving bonus Mileage for MapleSEA daily? Now you can get small boosts for your mobile counterpart while exploring and progressing in MapleSEA!
Maple Administrator NPC and obtain your personal MapleStoryM Cross Event Key String which is used to link your MapleStoryM account to your MapleSEA account.
Accept [MapleStoryM] Play MapleStorySEA and get rewards for MapleStoryM! quest via NPC Maple Administrator and simply complete daily quests in MapleSEA and be rewarded in MapleM!

Daily Quests

Hunt 500 Level Range Monsters

Achieve 300 Combo Kills

Defeat 2 Elite Monsters/Champions

Activate Rune x2

Clear Monster Park once

Additionally, you can place a Legion Block in MapleStoryM based on the level of your MapleSEA characters!

Grade SS : Level 200

Grade S : Level 150

Grade A : Level 100

Grade B : Level 60

P.S. No birds were harmed in the making of this advertisement.
---