News
26 Sep 2016
Get Great Deals for @Cash from MyCyberSale 2016 - Malaysia's Biggest Online Sale!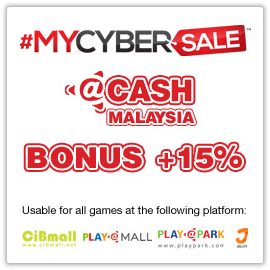 Malaysia's biggest online sale is back! In conjunction with
MyCyberSale 2016
, @Cash Malaysia is having a promotion where you will get
15%
Bonus @Cash for every successful @Cash purchase! This promotion is
valid from 26th till 30th September 2016 only
!
Grab your @Cash at
http://mycybersales.playpark.com/
and reload into your favorite game today!
- MapleSEA Administrator