News
31 Aug 2017
Removal of Stats from Decorative Item - Calico
Dear Maplers,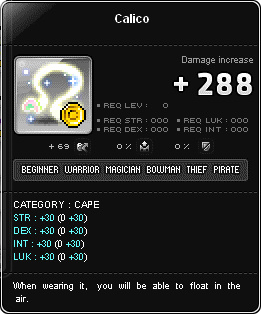 We've received feedback from players regarding the item stats on the decorative Cash Item - Calico.
After checking with our developers, it seems that there was an error with the item - the stats were not intended to be listed onto the cape. However, rest assured that the
decorative item itself is permanent
.
The item stats will be removed in the next weekly maintenance, on 6th September 2017
.
We appreciate the reports submitted in and brought to our attention. Thank you.
- MapleSEA Administrator