News
18 Nov 2016
Code V Event at Bugis+ Singapore
Dear Participants,
Thank you for showing an interest in our
Code V event
this Sunday.
Please be reminded to bring along a hard-copy or soft-copy of your ticket. Without the ticket, you will not be able to participate in the event.
Venue: Bugis+, 201 Victoria Street, Singapore, 188067 Click here to view the location map
Verification begins: At 1pm+ (You are advised to arrive before 2pm)
Verification point: Level 1 (In front of the outdoor escalator, near Pull&Bear)
Event area: Level 2 (In front of Uniqlo)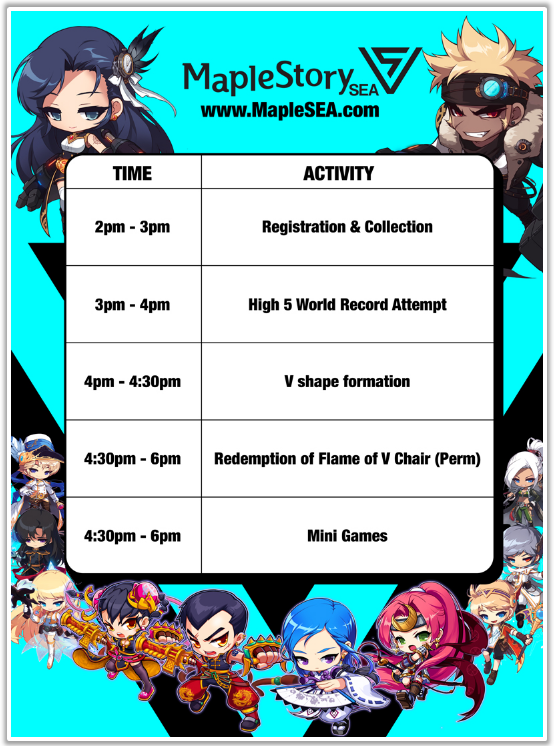 *Schedule may be subject to slight changes at the venue
What to expect:
Step 1
: Report to verification point at level 1
Step 2
: Head up to level 2 redemption counter to collect goodies and quest card
Step 3
: Begin forming for High 5 World record attempt (Quest 1)
Step 4
: Start to form super large "V" symbol (Quest 2)
Step 5
: At any time, there will be stage activities and mascots roaming around
Step 6
: Remember to also take part in Instagram activity. #MapleV (Quest 3)
Step 7
: When the quest card is completed with all 3 quests, head to redemption counter from 4.30pm onwards to redeem Flame of V Chair in-game item
For More details of the event visit:
http://www.maplesea.com/events/view/maplestorysea_code_v
Please note that if you do not have a ticket, participation will only be granted on a case by case basis subject to availability of slots.
Have fun!
- MapleSEA Administrator