News
02 Jul 2017
12th Anniversary FunFest Offline Sales

Hey everyone!
It's MapleSEA 12th Anniversary this year and if you're not aware still, we'll be having our offline FunFest Event, happening concurrently in both Singapore and Malaysia this coming 9th July 2017!
And of course aside from fun-filled activities lined up just for you, we will also have our yearly on-ground item sales, ranging from cosmetics to cool damage skins to pet packages and many more! So without further ado, let us present to you, the catalogue of items available on sale during our FunFest event!
1. Assorted Permanent Chairs
2. Multi-Pet Packages
3. Decorative Packages
4. Assorted Damage Skins
5. Assorted Permanent Mounts
6. Assorted Permanent Effects
7. Assorted Hair and Face Coupons
---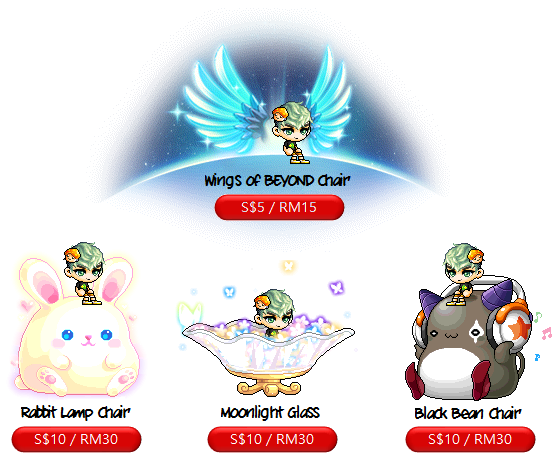 • Petite Demon Pet Packages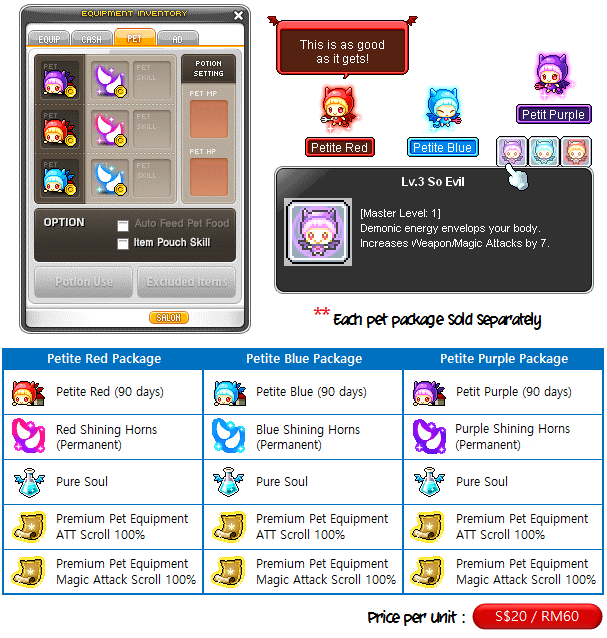 • Colorful Chameleon Pet Packages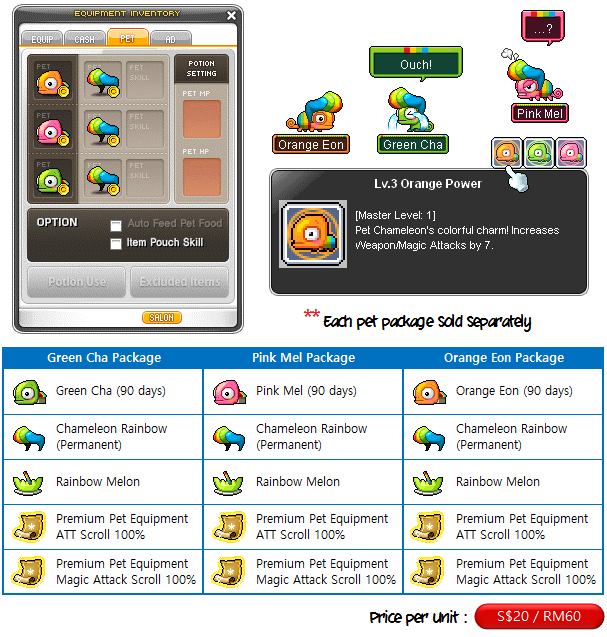 • Pastel Orchid Pet Packages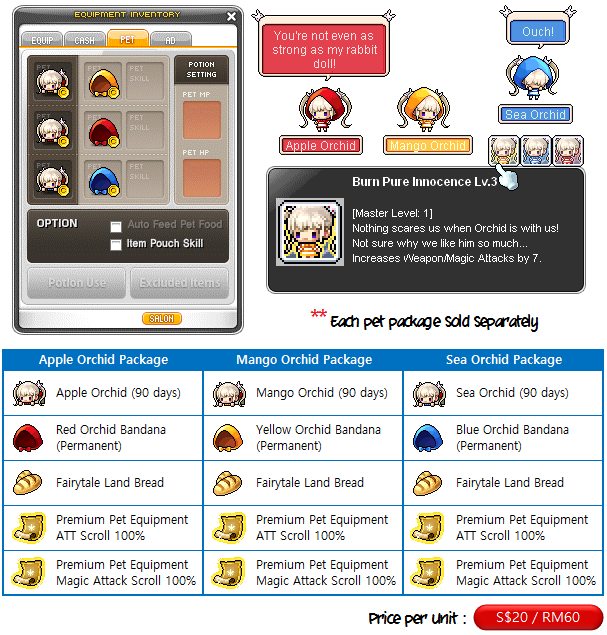 • Sugar Cafe Set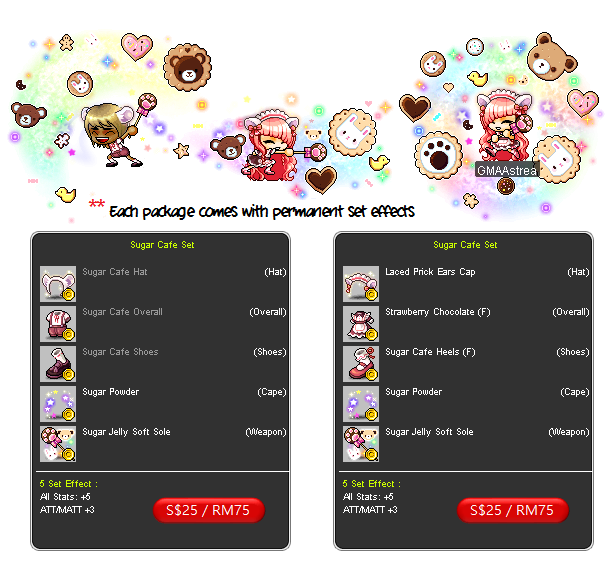 • Soft Moonlight Set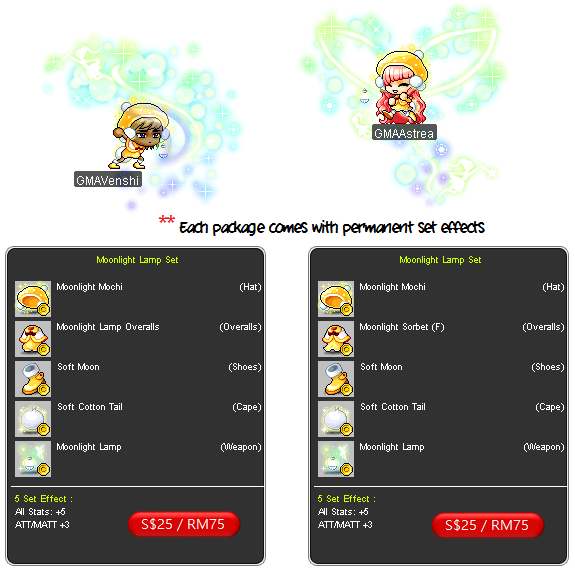 • Lord of the Snow Set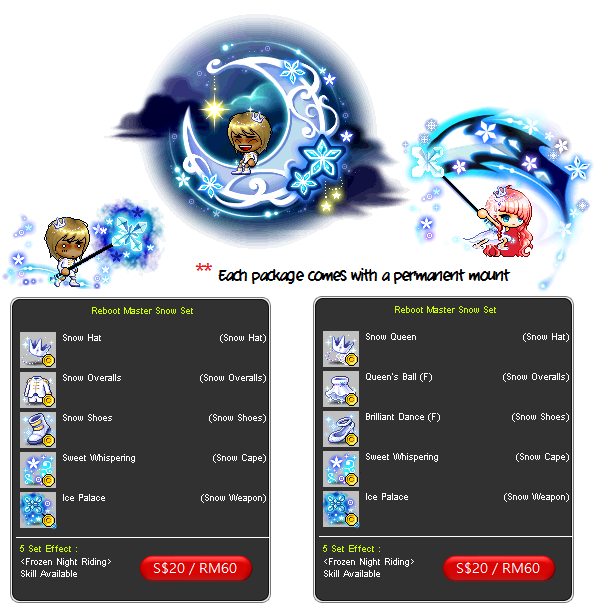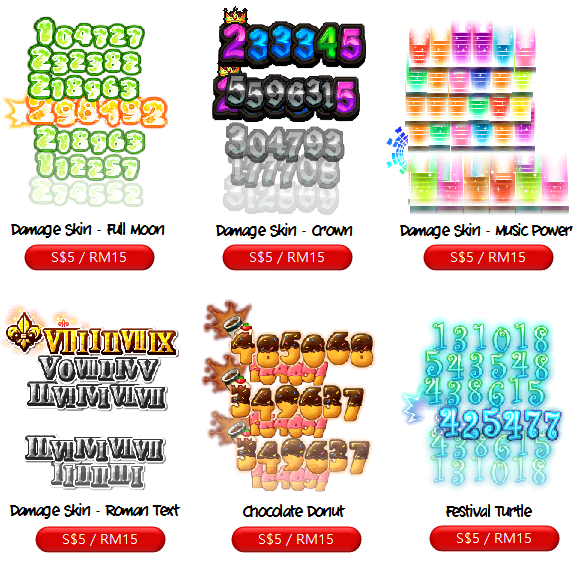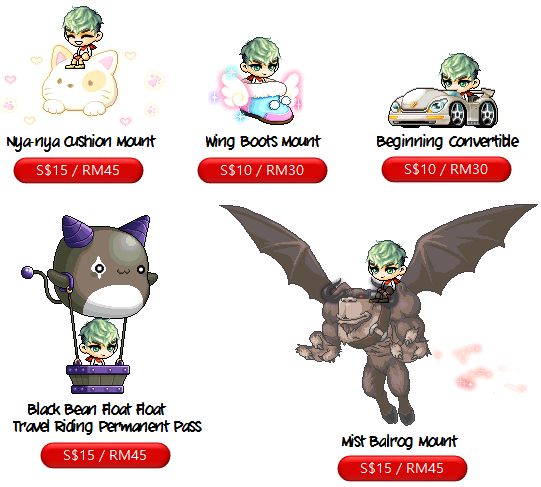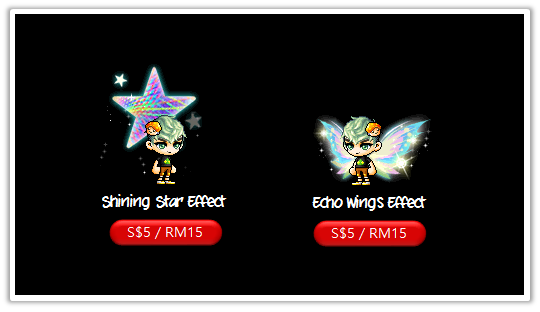 • Heroes Royal Hair Coupon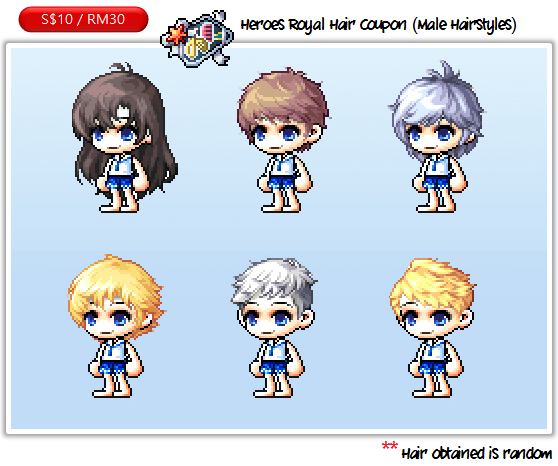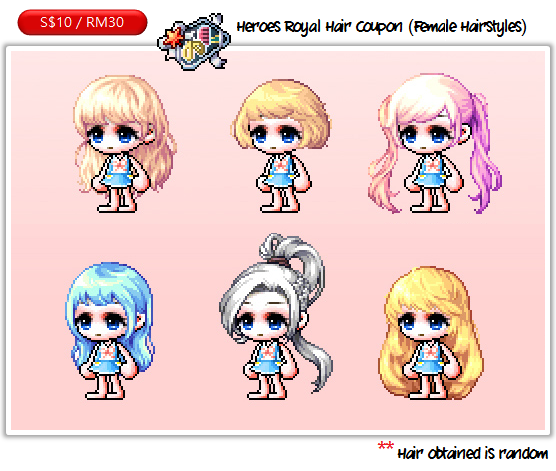 • Heroes Royal Cosmetics Coupon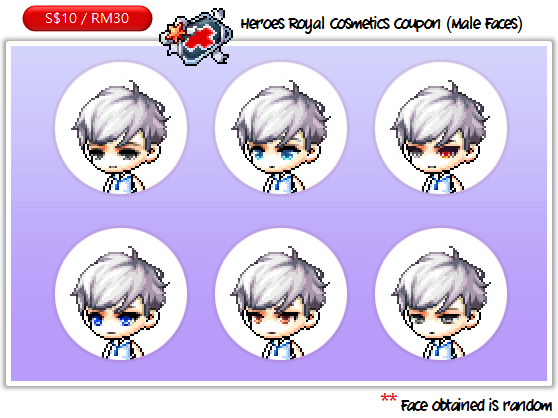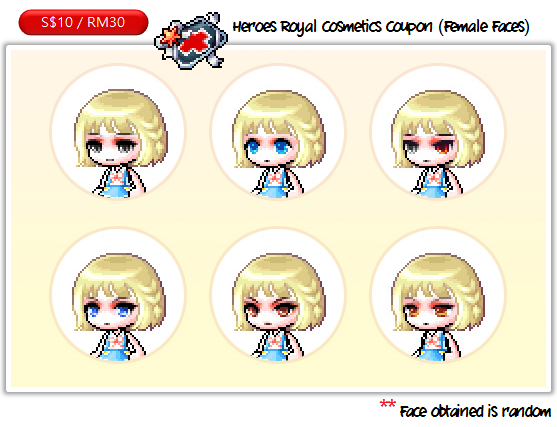 Mysterious Mix Dye Coupon Exchange Ticket,

Android Kitty Hair Coupon (M) and

Android Kitty Hair Coupon (F), will also be available for sale at SGD5.00 / RM15.00 each.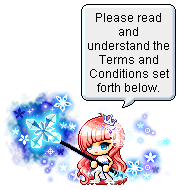 • Limited coupon quantities will be available at each venue. • All item sales are on a
first-in-queue-first-serve
basis. • A
maximum allowable purchase quantity limit of 5 units per item coupon
will be imposed for each person. • Order forms will be distributed by our Event Crew,
each person is only allowed to hand-in ONE order form
at the Sales Booth. •
Disqualification of multiple order forms submission per-person
by the Sales Booth staff is final and binding. • Please note that the
Sales Booths will operate only from 11am to 7pm
. • All item coupons sold are non-refundable nor exchangeable. • We will not be responsible for any coupon codes that have expired. • Asiasoft Online Pte Ltd and Nexon Korea Corporation reserve the rights to make any changes to the above-mentioned without any prior notice. • Should you encounter difficulties in redeeming any of the codes, kindly send an iBox ticket within 2 weeks from the date of purchase for further assistance.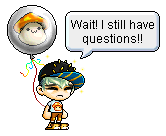 Q: Where can I buy all the items as displayed above?
A:
These items will only be available for sale at our FunFest event which will be held on 9th July 2017.
Q: Where is the event going to be held?
A:
Plaza Singapura in Singapore, and Berjaya Times Square in Kuala Lumpur, Malaysia.
Q: What? Both SG and MY events are on the same day?
A:
Yes! For the first time, we will celebrate our 12th Anniversary together.
Q: How do I purchase the items that I want?
A:
Get an order form from one of our Event Crew at the respective venues. Tick the items and quantities that you wish to purchase, and join the queue for the Sales Booth.
Q: Can I buy as many items as I want?
A:
As coupons are in limited quantities, each person can only purchase up to 5 units of the same item.
Q: But I want more than 5!
A:
You may get a fresh order form from an Event Crew, and rejoin the queue from the starting point.
Q: It's too troublesome, can't I just give multiple copies of order forms at the Sales Booth?
A:
No. To remain fair to other users, any attempt to submit multiple order forms at the Sales Booth will be respectfully declined by the staff-on-duty. You will have to re-queue to make subsequent purchases.
Q: How do I redeem my item code(s)?
A:
You can redeem your codes via the Cash Shop in-game. Click the

button at the top right corner of the screen and enter your code in the empty fields before clicking on 'OK'.
For more information on the FunFest Event and Venues, please visit this
link
. Come one, and come all. Let's celebrate together!
– MapleSEA Administrator