Events
20 May 2020
Welcome Back to RISE
Dear Mapler,
Welcome back to Maple World!
You're just in time to join Adele's entry into the universe of Maple World! Return for the adventure you must complete, and be rewarded with a
Returning Mapler Ring
!
Simply log in to the game now! Eligible users will receive the Returning Mapler Ring on a
weekly basis
after server checks, from
27th May 2020 onward
.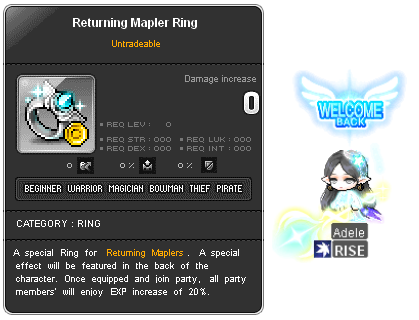 Eligible Returning Player Criteria
:
Players who have not played since 1st September 2019, but have logged in to the game from 20th April 2020, 0000hrs ~ 30th June 2020, 2359hrs.
Maple ID must have been created before 1st May 2019, 0000hrs.
Terms & Conditions
The Returning Mapler Ring will provide bonus EXP increase benefits for 30 days.
Rewards will be distributed to eligible users on a weekly basis every Wednesday, starting from 27th May 2020.
PlayPark Pte Ltd and Nexon Korea Corporation reserves the rights to make any changes to the above mentioned without any prior notice.
PlayPark Pte Ltd and Nexon Korea Corporation reserve the right to edit or change any of the above without prior notice.
All decisions by PlayPark Pte Ltd and Nexon Korea Corporation are final & binding.