Events
31 Dec 2019
[Updated] Welcome 2020 Websale! Special W00W New Year Sale!
A Very Special W00W Sale
You want it, we got it! Many Maplers have been requesting for sales events at our Back to School event held earlier this month.
Let us
W
elcome 2
0
2
0
with a very special sale on the
W
eb!
W00W Sale Duration
:
31st December 2019, 2020hrs ~ 2359hrs
31st December 2019, 2020hrs ~ 5th January 2020, 2359hrs
[Update as of 31st December 2019, 2355hrs] Due to overwhelming responses, the sale duration for W00W has been extended till 5th January 2020. Happy new year to all!
We are bringing the sales to you, in the comfort of your browser. Simply log in to our
iGacha portal at mapleigacha.playpark.com
at purchase the following items,
without limits*
, to your hearts desire!
*Note: All items have limited quantity and are sold on a first-come, first-served basis.
DO NOT
PRESS BACK OR CLOSE THE WEBPAGE THROUGHOUT THE PURCHASE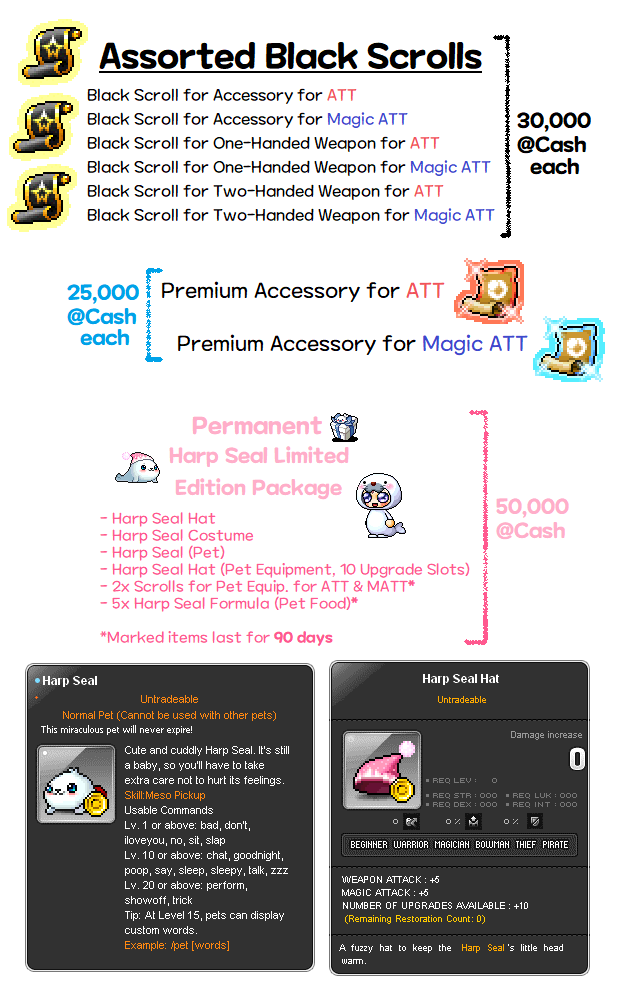 ---
Step-by-step guide to purchasing :
1. Login to
mapleigacha.playpark.com
2. Click on the "MapleSEA Special Sales" button
3. Read the Terms and Conditions, and click on the acceptance button to continue
4. The list of items available will be displayed, as well as your available Maple Cash balance.
5. Choose your item and click on the "Purchase" button
6. Check that you have the correct item before completing the purchase. There will not be any refunds for wrong item purchases.
7. Click on the "Confirm Purchase" to finalize the purchase.
8. You will receive the 30-digit redemption code which will be displayed under your "My Info" section. You may redeem the codes at the Cash Shop at a later time.
DO NOT
PRESS BACK OR CLOSE THE WEBPAGE THROUGHOUT THE PURCHASE
To make another purchase, you must click on the
button again and accept the Terms and Conditions.
---
TERMS AND CONDITIONS
• All purchases must be made using Maple Cash. • There will not be any refunds for any mistaken item(s) purchased. • Codes that have not been redeemed before their respective expiry dates will not be reimbursed. • We will not be responsible for any loss of codes. • There are limited quantities of items available. • All item sales are on a "whilst stocks last" basis or until the event date ends, whichever comes first. • All items sold are non-refundable or exchangeable. • Should you encounter difficulties in redeeming any of the codes, kindly send an iBox ticket within 1 week from the date of purchase for further assistance. • PlayPark Pte Ltd and Nexon Korea Corporation reserves the rights to make any changes to the above mentioned without any prior notice.
- MapleSEA Administrator