Events
13 Feb 2022
May All Players Love Eternally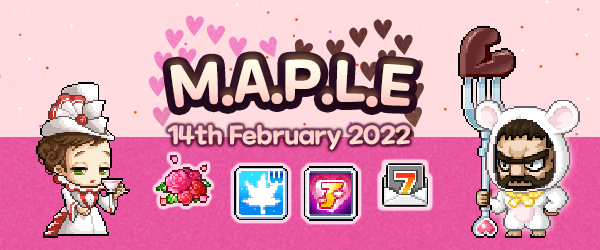 It is the season of love and all things romantic with Valentine's Day happening tomorrow!
We would like to wish for all players to love each other unconditionally, as we share the common love for MapleStorySEA together! As part of our wishes, it is our hope that all Maplers will be filled with love with our special login event on the 14th of February 2021!
What's more? In-game married players who have shown us your dedication and commitment will be able to get additional rewards later on if they do manage to claim our Valentine's Day gift for them!
Event duration: 14th February, 0000hrs ~ 2359hrs (GMT +8)
Simply login on Valentine's Day between 0001hrs to 2259hrs and stay online for a minimum of 60 minutes to be eligible for the following rewards :

Special Additional Incentive Bonus!
Characters that are married,
and have claimed the above rewards
on 14th February, will be further eligible to receive the below rewards, which will be credited to their MapleID during a future server check (claimable once per MapleID). Do note that if you have claimed the Valentine's Day login rewards on an unmarried character, you will not qualify towards receiving the additional incentive bonus.

Note:
You may only claim the reward once per MapleID.
All rewards will be obtainable via the Reward Box icon

, located on the left side of the screen AFTER the full 60 minutes has been clocked.
All rewards from the Valentine's Login event are Untradeable, so please be sure to login to the desired character on which you wish to claim these rewards.
Unclaimed rewards will disappear from the Reward Box at 0000hrs 15th February 2022.


---
FAQs

Q: I logged in before 2359hrs, why can't I claim any reward? A: You need to clock in the required minimum online time of 60 consecutive minutes before the reward claim period expires on 14th February 2022 at 2359hrs (GMT+8).
Q: I managed to clock in the required time, why wasn't I able to claim the reward? A: You have to claim the reward before the claim period expires on 14th February 2022, at 2359hrs (GMT+8).
Q: Can I switch characters? A: If you disconnect from the character serving the 60-minute timer, the quest timer will reset and you will need to start all over again.