Events
31 Mar 2023
Pink Bean Pranksters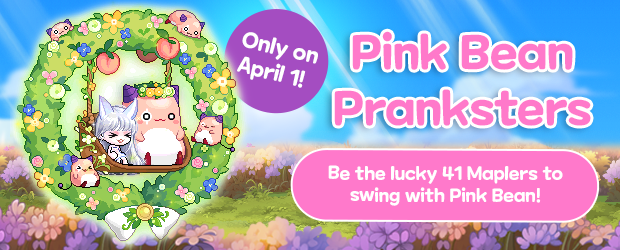 Pink Bean says BELLOOO!

A little beany fun to light up your mood BLEH~
But will you be lucky lucky for my cozy company? HEHE.
Or will you just make a mess of my belly?



Event Duration: 1st April 2022, 0001hrs ~ 2359hrs (GMT+8)
Stay online for
14 Minutes
to receive a mystery gifty gift! Good luck!
Note:
You may only claim the reward once per MapleID.
You must claim the reward in order to be eligible for a chance to receive a bonus reward.
All rewards will be obtainable via the Reward Box icon

, located on the left side of the screen AFTER the full 14 minutes has been clocked.
All rewards from the April Fools Login event are Untradeable, so please be sure to login to the desired character on which you wish to claim these rewards.
All rewards from the April Fools Login event have a duration of 7 days.
Unclaimed rewards will disappear from the Reward Box at 0000hrs (GMT +8), 2 April 2023.
Bonus reward Pink Bean Swinging Chair will be credited to 41 lucky users by the 12 April 2023 Maintenance.


---
FAQs

Q: I logged in before 2359hrs, why can't I claim any reward?
A: Bean needs you 14 minutes consecutively online! Minimally! Before the reward claim period expires on 1st April 2023 at 2359hrs (GMT+8), of course!

Q: I managed to clock in the required time, why wasn't I able to claim the reward?
A: The claim period expires on 1st April 2023, at 2359hrs (GMT+8), and after that, Bean steals it from you.

Q: Can I switch characters?
A: The timer will reset! If you! Don't! Play! With! Bean! For! 14 minutes! In! A! Row! Play with me and start the timer again!


- MapleSEA Administrator Pink Bean
From somewhere in the corridor: ... Pink Bean got me good this time.... also... Beanie.... you forgot that it's already 2023...?

---