Events
28 Feb 2023
[Updated] Sprig of Spring~
Dear Maplers,
We know you love our mechandises, so let's welcome the Spring season with the Sprig of Spring~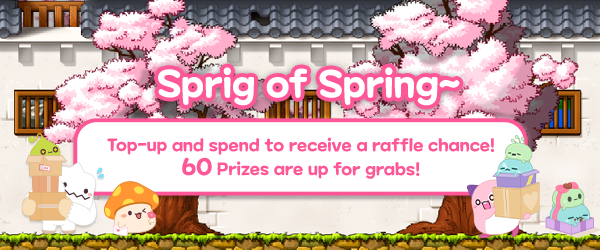 Event Duration: 1 March ~ 7 March 2023
Dear Maplers,
We would like to announce the lucky winners for
Sprig of Spring
. Thank you for your participation, and let us welcome the blooming of flowers this Spring!
Lucky Winners for Pink Bean Plush Hug Doll
T15XXXXXX046Q
T17XXXXXX530J
T09XXXXXX573X
T17XXXXXX375H
T12XXXXXX577T
T20XXXXXX383H
T05XXXXXX803E
T05XXXXXX682X
T08XXXXXX530W
T09XXXXXX180Z

Lucky Winners for MapleStorySEA Pillow (Assorted)

T16XXXXXX511F
T06XXXXXX710F
T15XXXXXX615F
T08XXXXXX073U
T08XXXXXX871V
T23XXXXXX640U
T06XXXXXX013R
T05XXXXXX877K
T22XXXXXX434V
T16XXXXXX373W
T09XXXXXX065T
T06XXXXXX225W
T06XXXXXX681U
T22XXXXXX158L
T06XXXXXX216D
T07XXXXXX571F
T16XXXXXX381W
T06XXXXXX065D
T16XXXXXX718M
T09XXXXXX118U

Lucky Winners for Yeti Tumbler

T07XXXXXX242V
T20XXXXXX180G
T10XXXXXX852A
T08XXXXXX468F
T09XXXXXX783M
T07XXXXXX560E
T20XXXXXX881Z
T06XXXXXX655D
T16XXXXXX741N
T16XXXXXX118W
T21XXXXXX215L
T10XXXXXX856V
T11XXXXXX167W
T23XXXXXX373B
T16XXXXXX215W
T23XXXXXX351V
T20XXXXXX725Q
T12XXXXXX478U
T08XXXXXX416R
T06XXXXXX832M
T07XXXXXX036L
T21XXXXXX127W
T20XXXXXX222Q
T13XXXXXX544X
T09XXXXXX365S
T16XXXXXX378W
T05XXXXXX117H
T22XXXXXX664R
T22XXXXXX610Z
T16XXXXXX532W

Congratulations to all winners! All winners will be contacted via their registered email address on their MapleStorySEA Passport account separately.


---
Mechanics

Everyone gets a chance to win! Top-up 50K @Cash, convert it to Maple Cash and spend it in-game between 1st March 2023, 0000hrs to 7th March 2023, 2359hrs (GMT +8), and stand a chance to win MapleStorySEA Merchandises!
There is no limit to the amount of entries you can get, so feel free to stack up your chances!
There will be a total of 60 prizes to be raffled~


Prizes

The 60 MapleStorySEA Merchandise to be won are as follows:

Pink Bean Plush Hug Doll x10

MapleStorySEA Pillow (Assorted) x20

Yeti Tumbler x30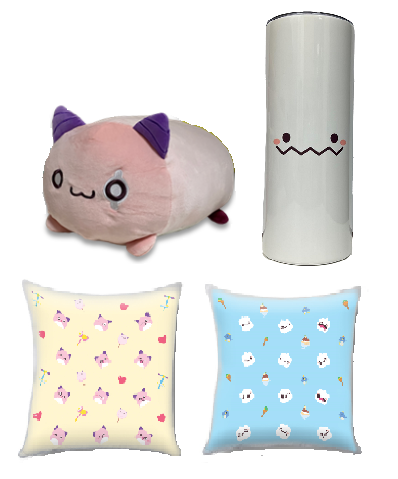 Terms & Conditions
This promotion is open to all Maplers with a valid MapleID and MapleSEA Passport account.

Maplers must top-up, convert and spend 50,000 @Cash within the stated event duration to be entitled in this raffle.

There is no limit to the amount of entries you can get, so feel free to stack up your chances!

Maplers must purchase items within 1st March 2023 to 7th March 2023 2359hrs (GMT +8) in the Cash Shop to be eligible, on top of the top-up and convert requirements.

Each MapleStorySEA Passport can only win the lucky draw within this event once.

In-game purchases that use a mix of Maple Cash and Mileage will not be eligible for this event.

Physical merchandises winners will be contacted separately upon conclusion of the event via an email sent to their registered email address attached to their MapleStorySEA Passport ID. PlayPark Pte Ltd will not be responsible for any loss of emails or rewards due to the negligence of keeping your contact information up to date.

Images shown are for illustrative purposes only, and the colour displayed and shown may differ from the final product due to screen differences.

PlayPark Pte Ltd and Nexon Korea Corporation reserve every right to replace the stated reward with items of equal value should there be difficulties faced while obtaining user contact information.

PlayPark Pte Ltd and Nexon Korea Corporation shall not be held responsible for any disputes over the event results or claim of prizes.

PlayPark Pte Ltd and Nexon Korea Corporation reserve the rights to suspend or take action against any user found to breach the policies set forth in our Terms of Use, User Abuse Policy, and Rules of Conduct without any prior notice.

PlayPark Pte Ltd and Nexon Korea Corporation reserve the right to amend and/or remove the promotion and associating terms and conditions at its discretion without any prior notice.

All decisions by PlayPark Pte Ltd and Nexon Korea Corporation are final & binding.

- MapleSEA Administrator



---